Located right on a beautiful private part of Kamari Beach, the amazing Bellonias Villas is a small, boutique style complex of minimally decorated units set amidst a palm-tree garden. There is a small, but fancy pool with a fabulous sea view and a seaside restaurant.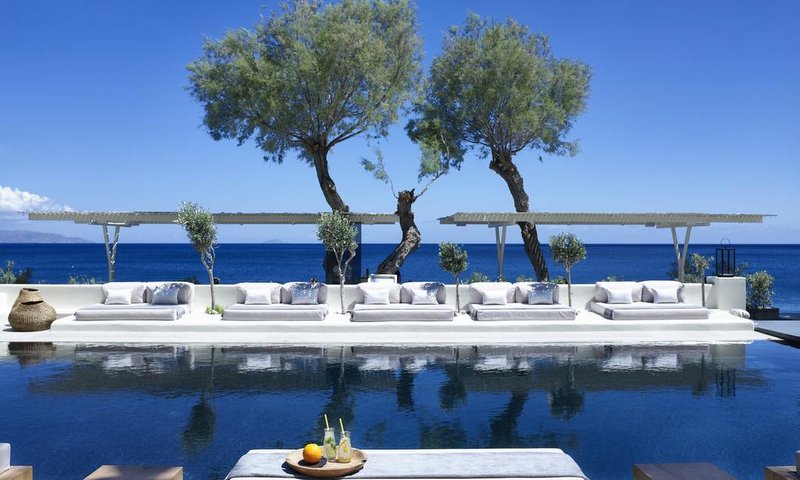 Bellonias air-conditioned studios and apartments have marble floors and built-in beds. They come with a lovely kitchenette and a living area. Small meals & the best cocktails are available at the poolside bar. The fantastic Elia Restaurant serves Greek and Mediterranean dishes right next to the beach but within a short stroll you'll find many other great restaurants & bars.
Bellonias

Bellonias Beach Villas is a contemporary design beach project that conveys the passion and creativity of the owners in combination with the innovative & fresh thinking of up-and-coming Greek architects & artists. Drawing inspiration from the unique landscape of Santorini, the designed environment of all areas of the hotel is composed of natural materials like wood & stone using contemporary design aesthetics.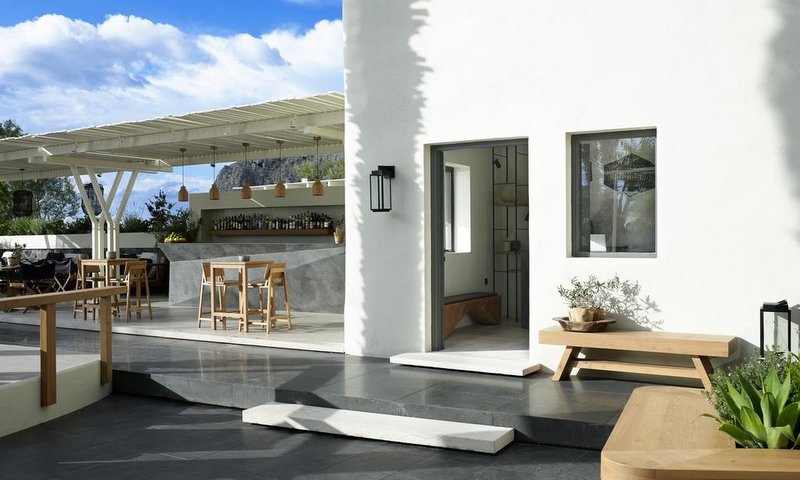 The villas & suites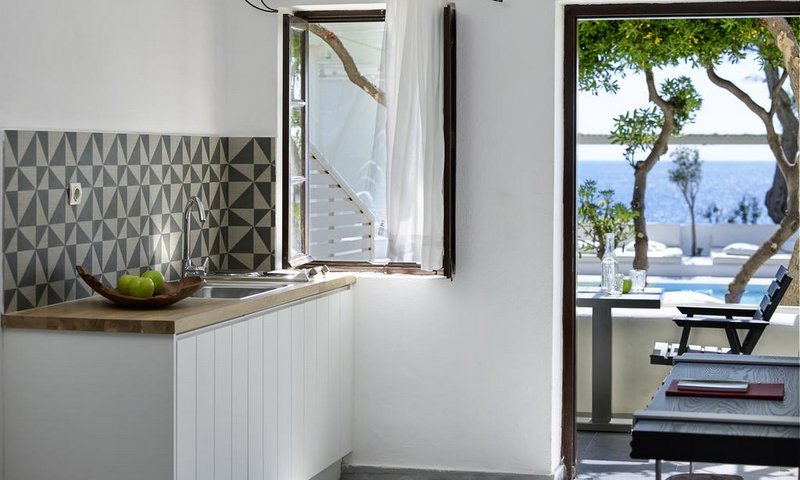 The natural, simple elegance of our beach suites, the signature cocktails of the pool bar, the exquisite flavours at Elia Restaurant, make Bellonias Beach Villas the ideal choice for those who seek for an ultimate beach holiday experience in Santorini of stylish, unpretentious luxury and the best relaxation.

The Beach
Leave your thoughts & worries at home and feel the freedom of stepping out of your room, enjoy breakfast at the beachfront Elia Restaurant and then walk barefoot to the mysterious black sand,Kamari beach!
At Bellonias Villas the Santorini hotel beach experience in Kamari becomes truly luxurious. Relax on soft comfortable sun loungers under the shade of stylish straw umbrellas while our efficient beach service team takes care of your every need. Indulge in relaxing moments under the sun choosing from refreshing cocktails & delicious dishes to be served right at the waterfront of our blue flag awarded beach with its amazing volcanic black sand.
And for those of you who want more than to lay in the sun all day, our SUP paddle boards are available upon request and promise a very enjoyable work out for many hours with the sensation of walking on water!
Elia Restaurant
Its inspired setting, idyllic location, and the supreme gastronomic creations of our awarded Chef make Elia Restaurant one of the finest dining options in Santorini. Set between the waterfront of Kamari beach and the hotel's pool area, the stylish yet unpretentious ambiance of Elia gives a hint of the culinary journey that awaits its guests. Fresh local ingredients and traditional Greek flavours are refined with creative twists, offering an unparalleled savory experience complemented by a quality list of selected local wines and signature cocktails.
Bellonias Villas
Kamari Boulevard
Kamari, Santorini
Greece 847 00
Tel: +30 2286 031138
www.belloniasvillas.com