Set back from the shoreline in the secluded cove of Cala Saona. This luxury beach hotel offers  the most spectacular sea views in the whole of Formentera. Also Hotel Cala Saona specializes in luxury on a grand scale, with the magical beachfront location. With a sensational spa and a beautiful pool with Seaview as its biggest selling points!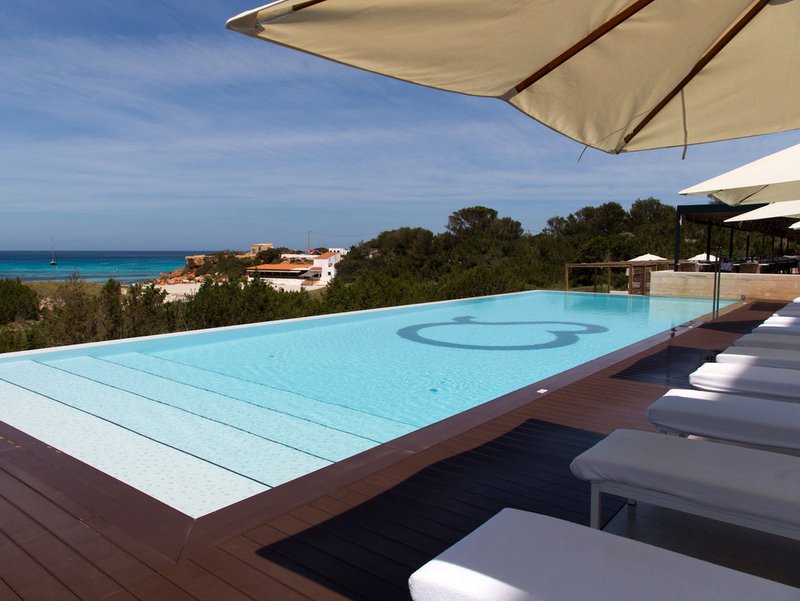 The hotel design is a tribute to the nature that surrounds it. Huge, floor-to-ceiling windows are interspersed throughout the building. And framing the stunning coastline like a postcard. We loved the picture-perfect views of Cala Saona hotel: tropical beach views all days. And  if the weather is good you can even see the Es Vedra Rock (Magical Rocky Ibiza Island).
Location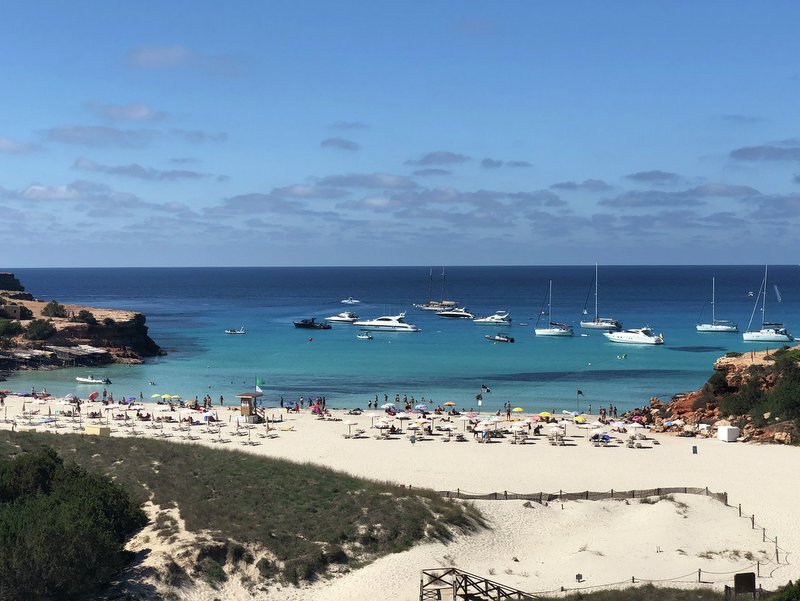 With one of Formentera's famously stunning beaches on your doorstep, you'll find little reason to wander much further than the immediate vicinity of the hotel. It's encompassed by the vibrant greens of a pine forest, the most enticing cerulean ocean blues, and the softest of white sands.
If you're looking to explore, the closest town is Sant Fransesc Xavier, which lies three miles (five kilometres) away. And is easy to reach by bycicle, rental car or taxi. Also the other villages and popular beaches of Formentera are just a short drive away: Playa Migjorn, Es Pujols & Playa de Iletas.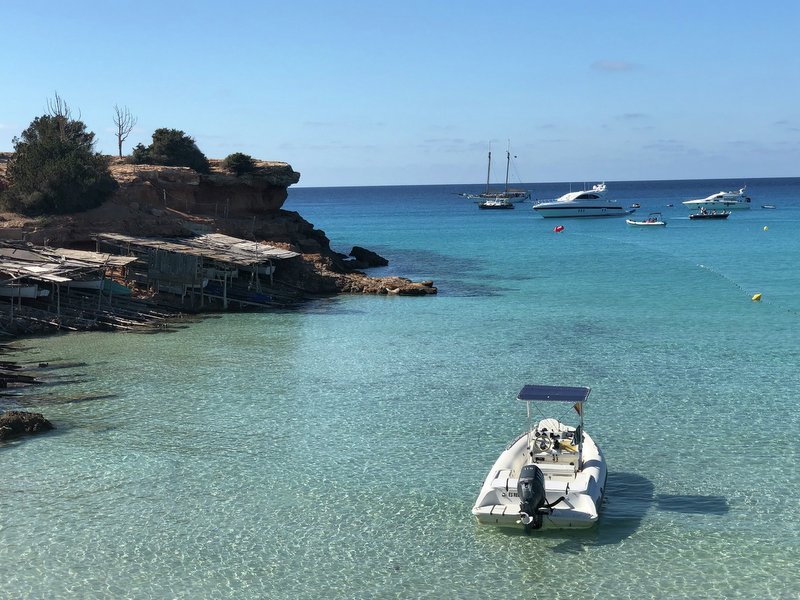 Since Formentera has no airport, you have to take the ferry to Formentera from Ibiza. The ferry from Ibiza takes you in only 30 minutes to this paradise island!
Rooms & Suites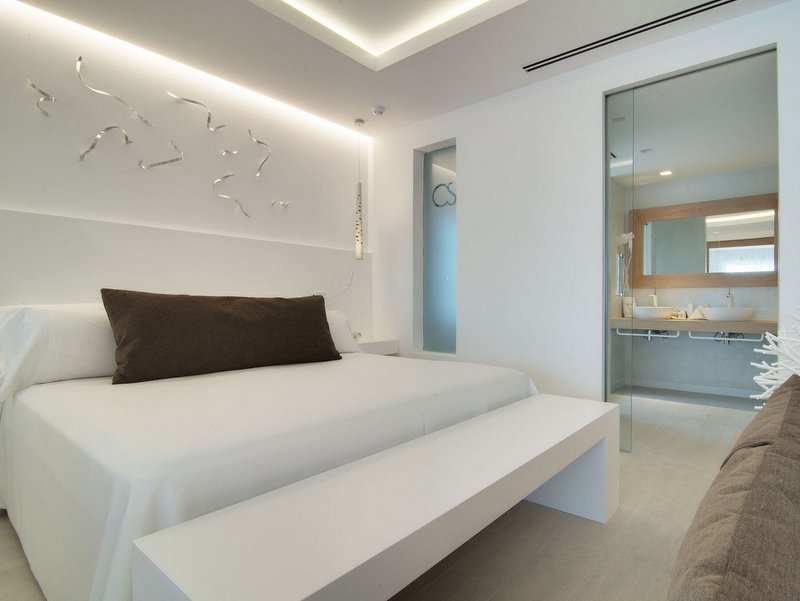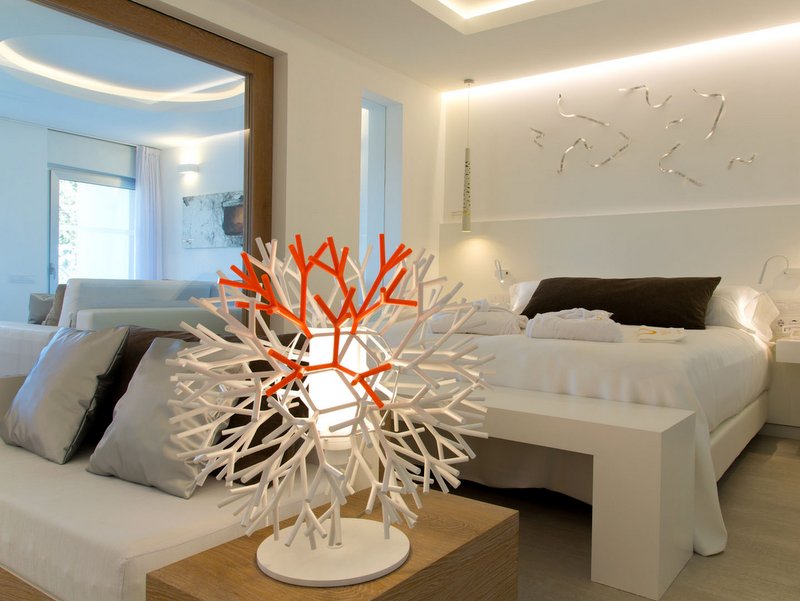 Beachfront rooms and suites are spectacular, thanks to the panoramic views of Cala Saona and Ibiza in the distance; you can see Es Vedrà – Ibiza's famous magnetic rock – while lying in bed or from your balcony, or even from your bathroom! Bathrooms are filled with lovely organic Osme bath products.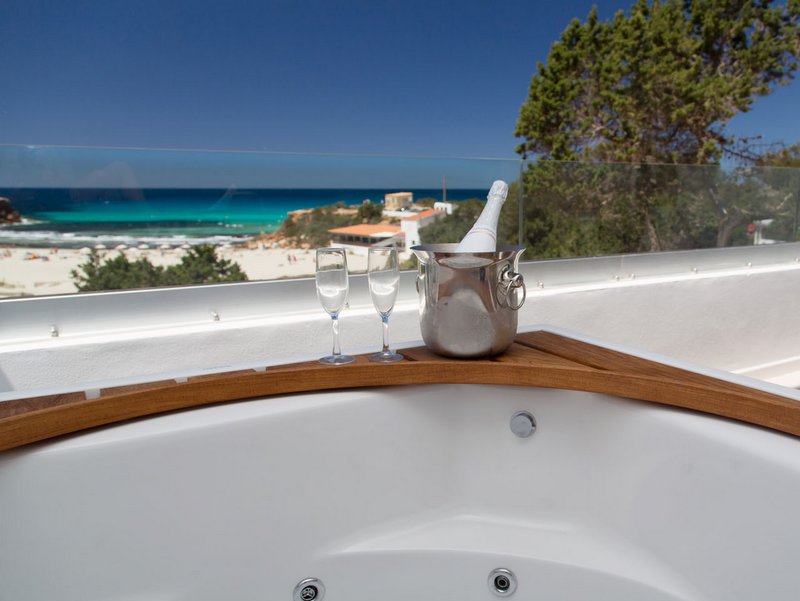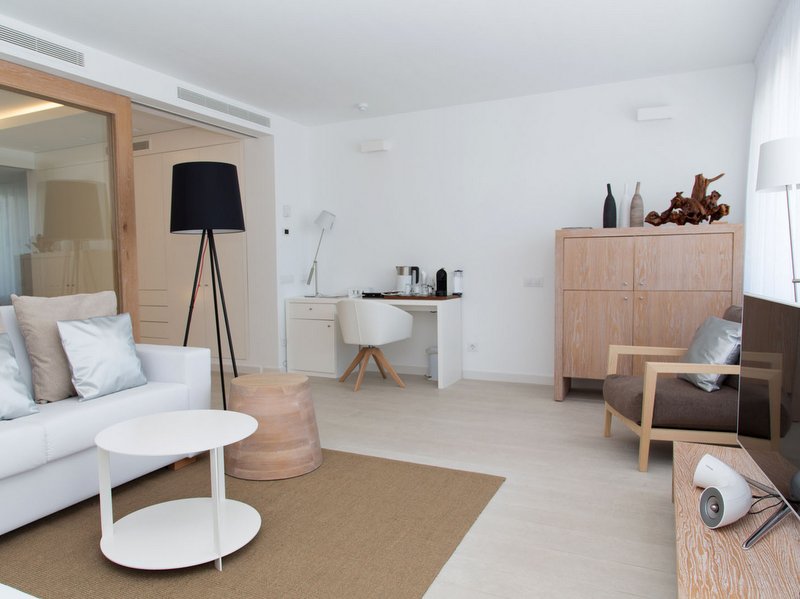 Above all, all rooms & suites are light and airy, with walls and furnishings in a palate of neutral shades. And bathrooms that are spacious and finished with natural wood. There are 98 rooms in total and not all of them face out to sea, so be sure to specify or choose wisely when you book!
The restaurant & bar at Cala Saona

An extensive breakfast buffet is set up in the restaurant between 8-11am. Options range from sweet pastries to a full English and everything in between, so you're guaranteed to leave with plenty of fuel for the day. For lunch and dinner, the restaurant serves up traditional Mediterranean food with a modern twist, using local ingredients like Formentera lamb and lobster.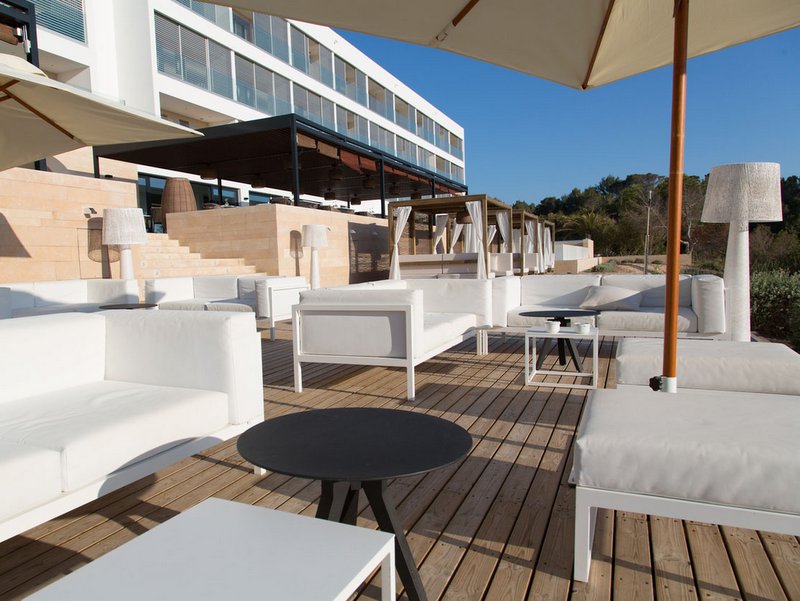 There's great cocktails, so you can enjoy them on the big terrace while watching the sundown. Make sure you'll taste the Saona Colada, served in a true Pineapple!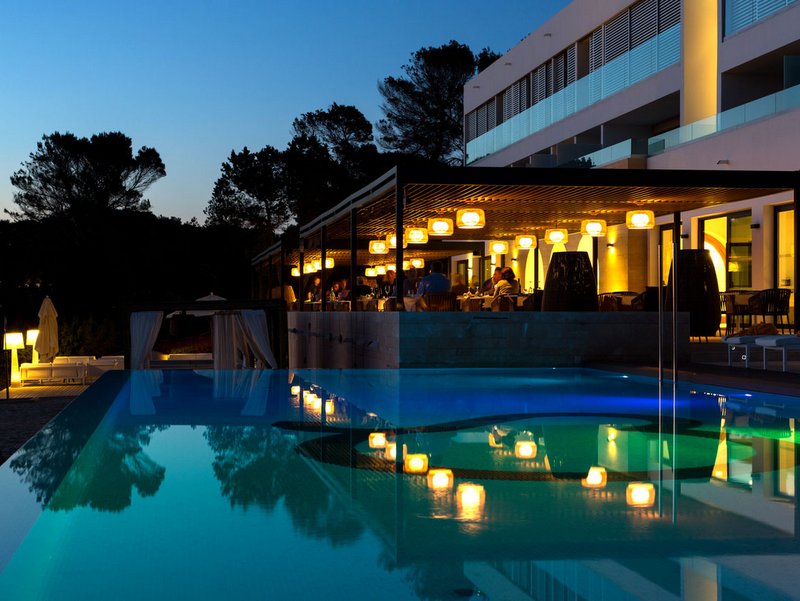 The location in itself encourages sublime relaxation. But to fully embrace it, head to the hotel's lavish spa.  Here you'll find sauna and steam rooms, indoor and outdoor plunge pools and a gym. There's also an on-site restaurant and bar with outside terrace. Also a swimming pool that faces out to sea, lined by big, luxurious day beds is waiting for you.
This Formentera juwel is the place to be for a relaxing break on Formentera and to enjoy the laidback island life!
Cala Saona Hotel & Spa
Carretera a Cala Saona 6
07860, Illes Balears, Spanje
Tel: +34 971 32 20 30
www.hotelcalasaona.com