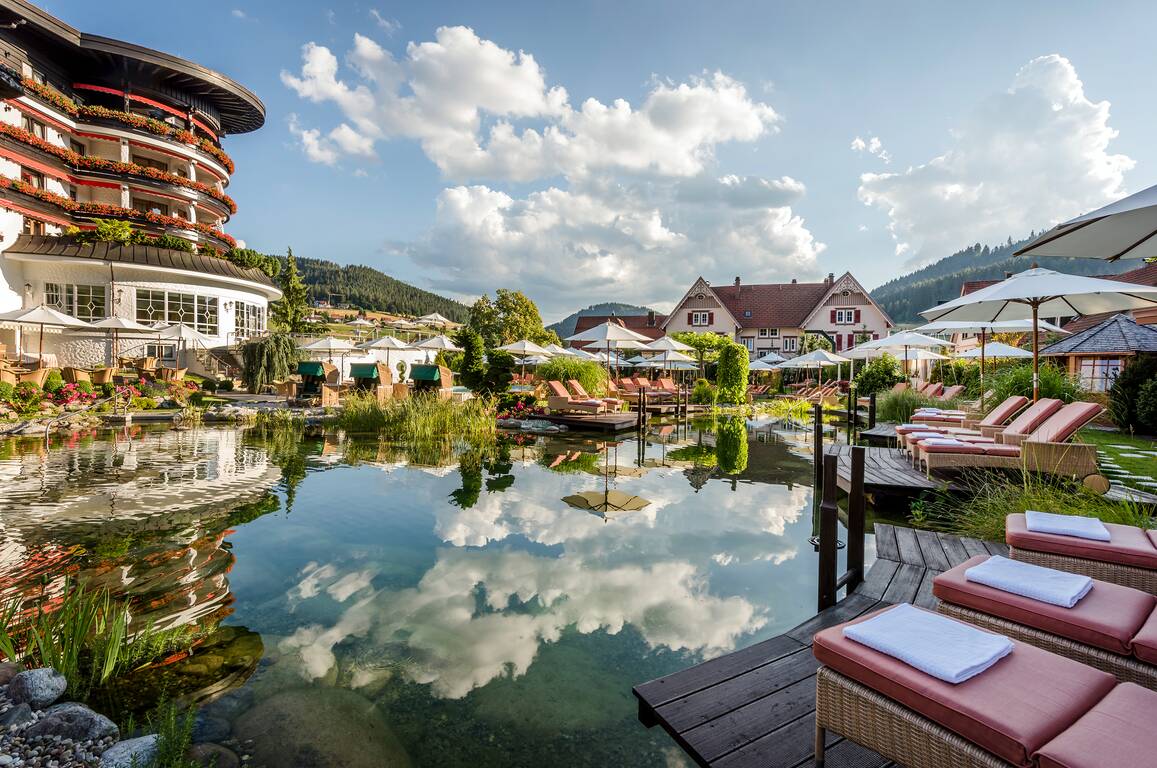 Multiple Award Winning Hotel Bareiss in the Black Forest is just perfect for those who love nature, walking, luxury and ultimate relaxation. The hotel is located in the picturesque village of Baiersbronn. Also known as the culinary capital: the restaurants in this village have been awarded a total of eight Michelin stars! No matter the season, there's always something great to experience in this area. And the setting of Hotel Bareiss is truly breathtaking.
History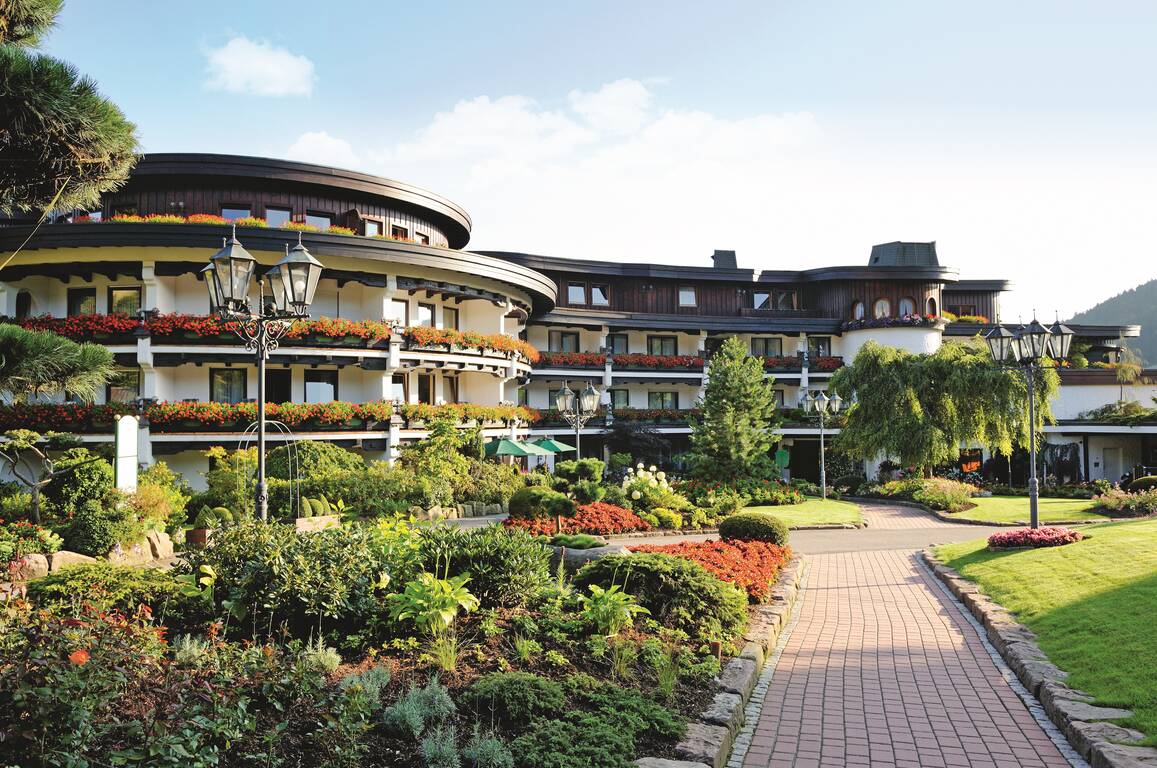 The history of Bareiss all started with Hermine Bareiss. In 1947 she takes over a small bistro, Auberge Kranz. In 1951 the hotel was first opened for business, under the name Kurhotel Mitteltal. Since 1973, it is operated by her son Hermann Bareiss. Today it has become the Hotel Bareiss, part of the prestigious Relais & Chateaux selection. With a rich history this hotel blends modern luxury with traditional charm.
Caring attention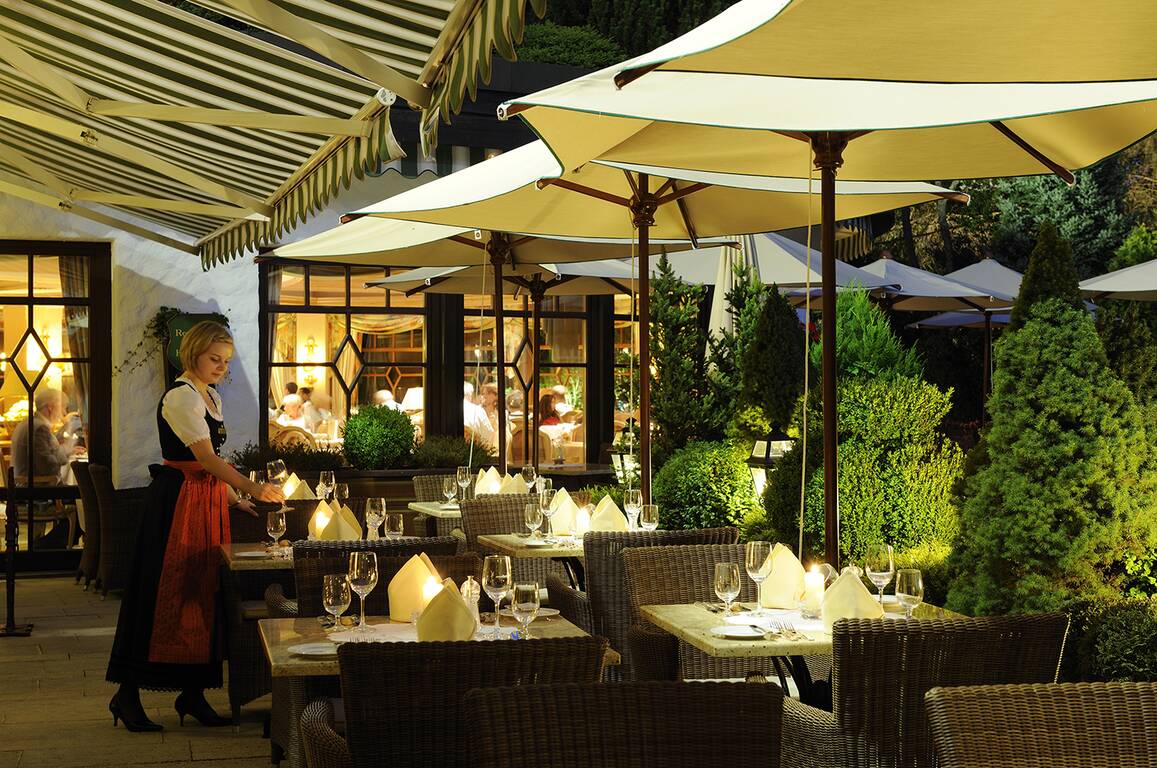 We felt welcome from the very first moment we arrived, thanks to the warm and caring attention we received from the staff, dressed in traditional clothing. Nothing was too much trouble and everyone went to great lengths to see that we had everything we needed. We have never stayed anywhere that has made us feel as comfortable as if we were in our own home. The hotel and its beautifully landscaped gardens seem to fit in perfectly in its northern Black Forest surroundings.
Spacious rooms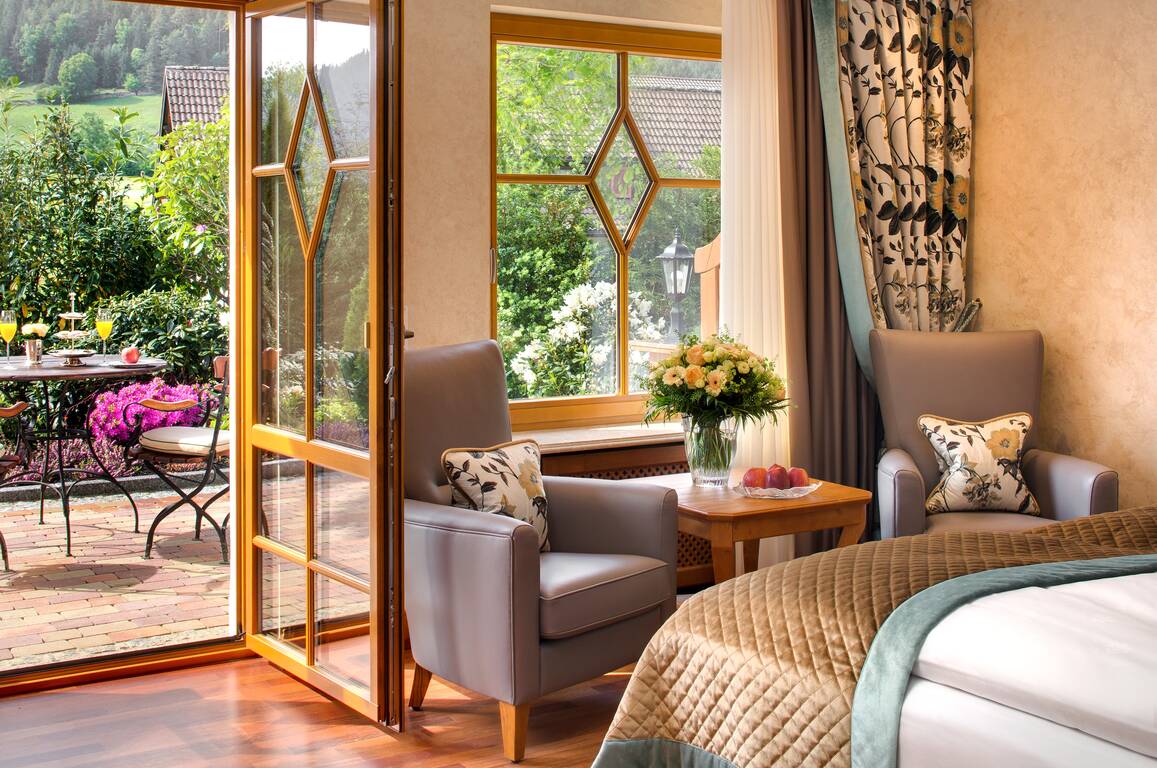 Rooms are beautifully decorated with pastel colors. They all have the charm of an elegant country house. Our spacious double room had a living and bedroom area, walk-in closet and balcony with a spectacular view of the resort and surroundings. In the room we were welcomed with glasses of champagne, orange juice for the kids and some delicious treats. It's all in the details.
Michelin starred restaurant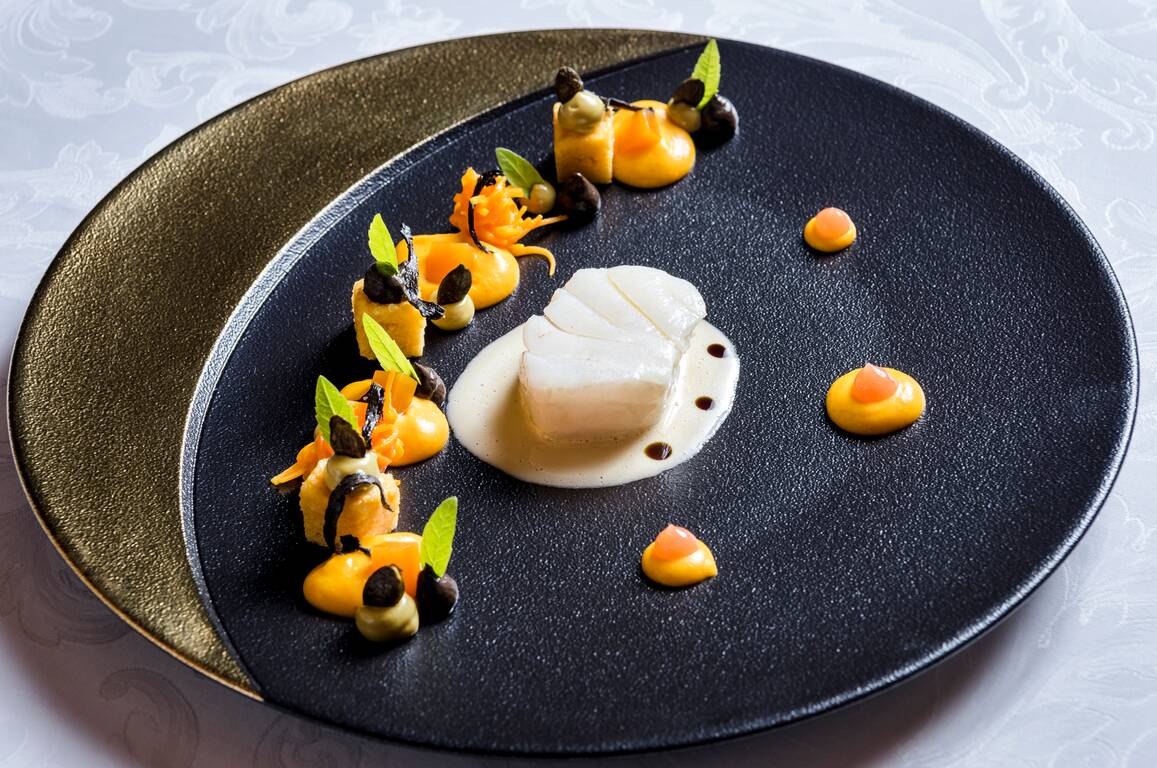 Dining is exceptional too. Hotel Bareiss offers a choice of three restaurants. One of the restaurants is rewarded with no fewer than three Michelin stars. The finest international cuisine of highest quality. Focusing on the essentials, the taste and the naturalness of the aromas. The Bareiss half-board stands for limitless delectability, and represents a feast from early morning to late in the evening. We enjoyed dining outside on the terrace with delicious food, great wines and live music.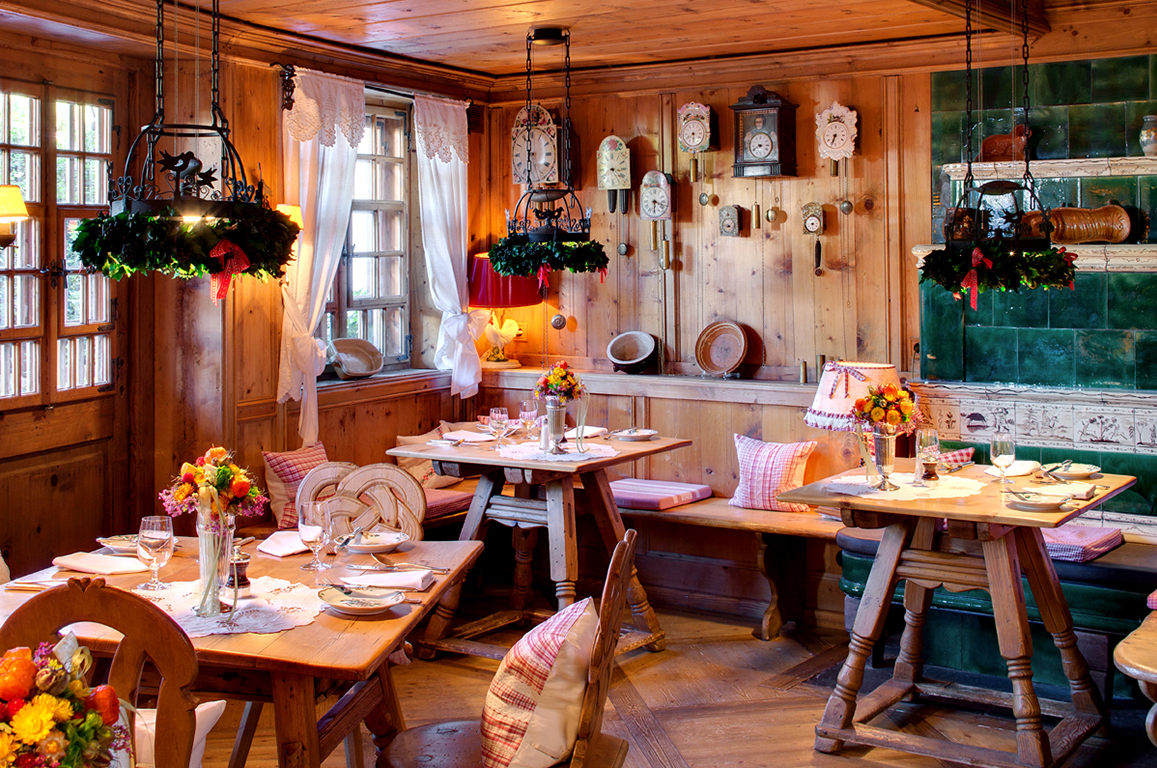 There is also a wonderful a la carte restaurant named Dorfstuben. We loved the cozy interior of this historic restaurant. The cuisine represents a wide-ranging cross-section of traditional delicacies from the Black Forest and from Swabia. Guten appetit.
Stunning pool & spa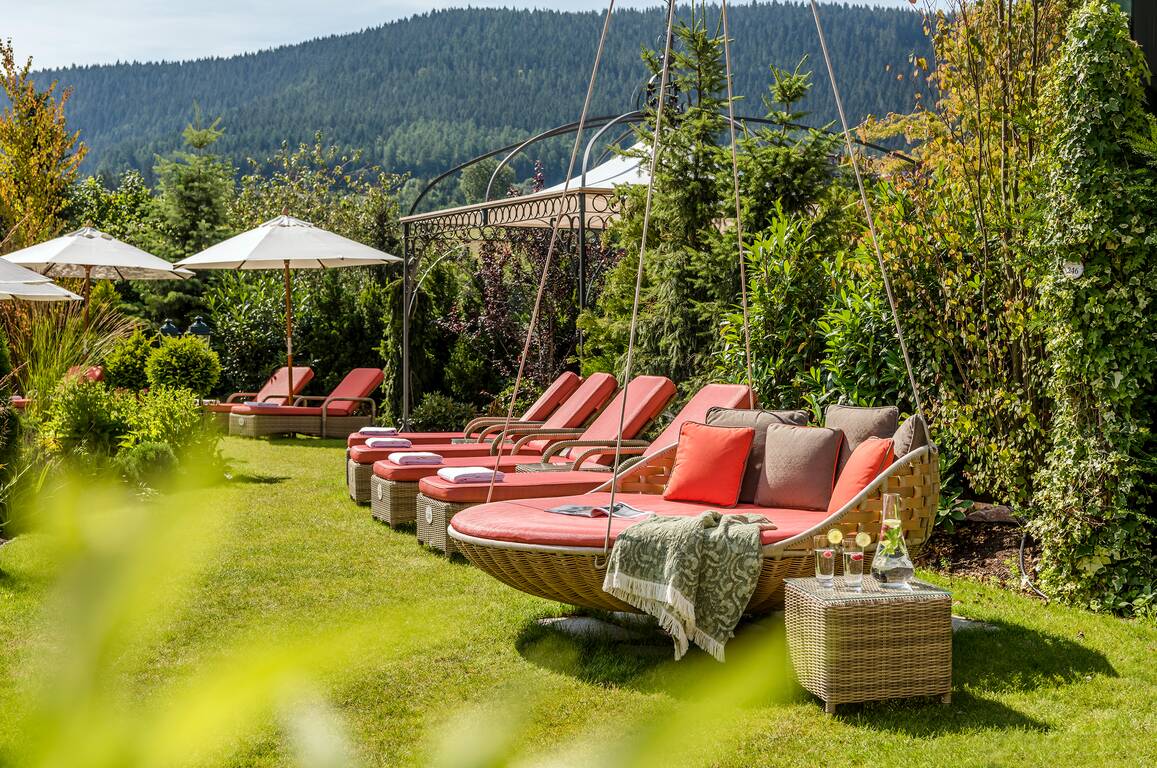 If it's pampering and relaxation you seek, look no further than Hotel Bareiss. The hotel's beautiful wellness spa includes indoor and outdoor pools, whirlpools, saunas, steam rooms, hammans, massage rooms and solariums. This resort will keep you refreshed and relaxed throughout your stay. From the garden with luxury sunbeds and swings to the nature pool, it's just stunning. Time to indulge and unwind. You can spend hours, or days, here!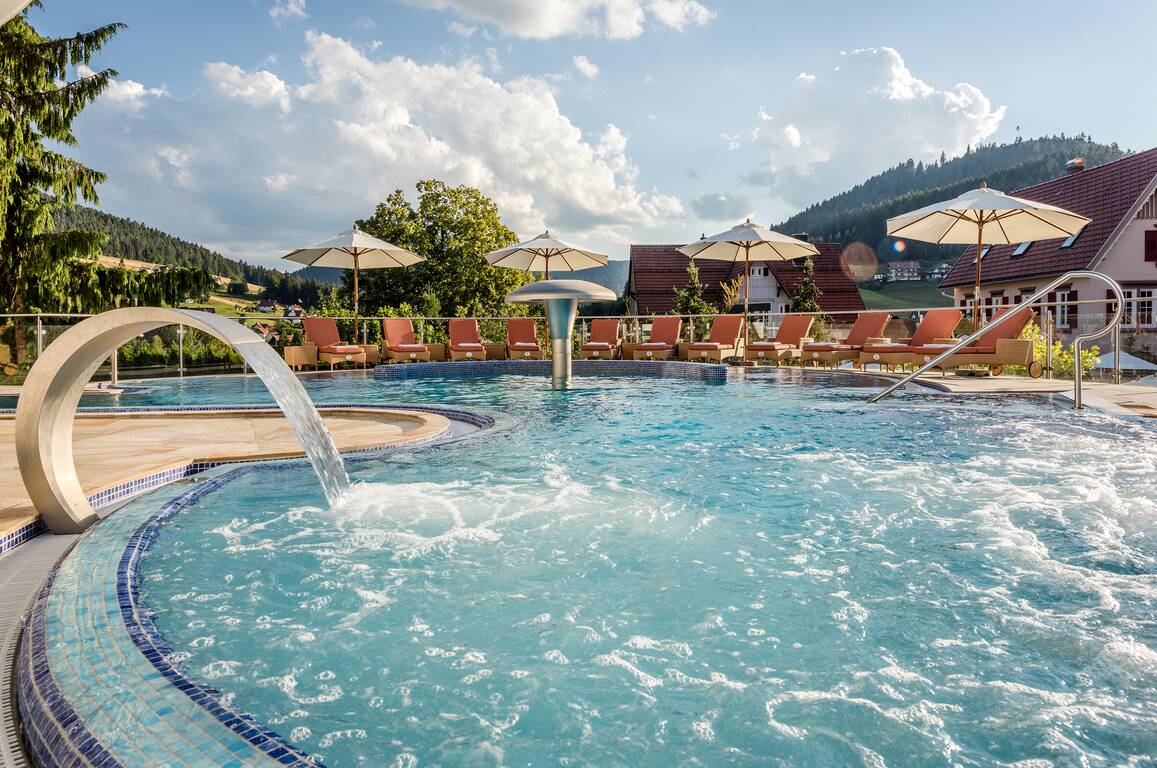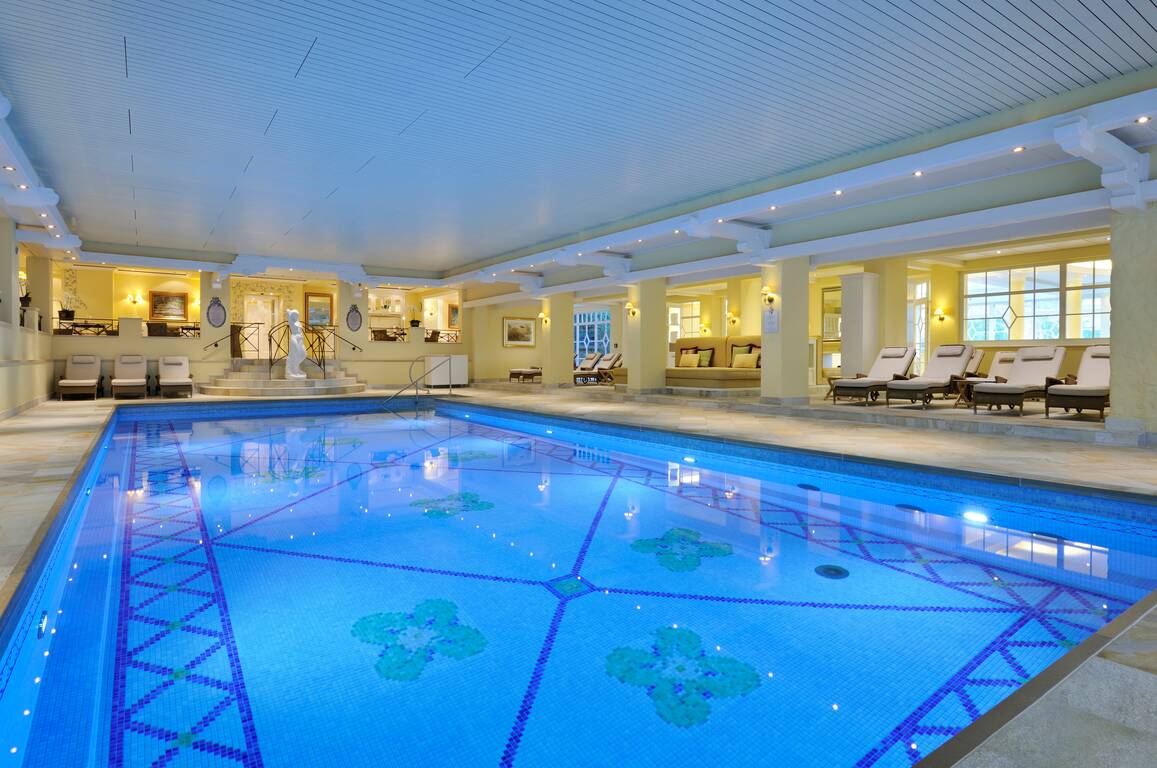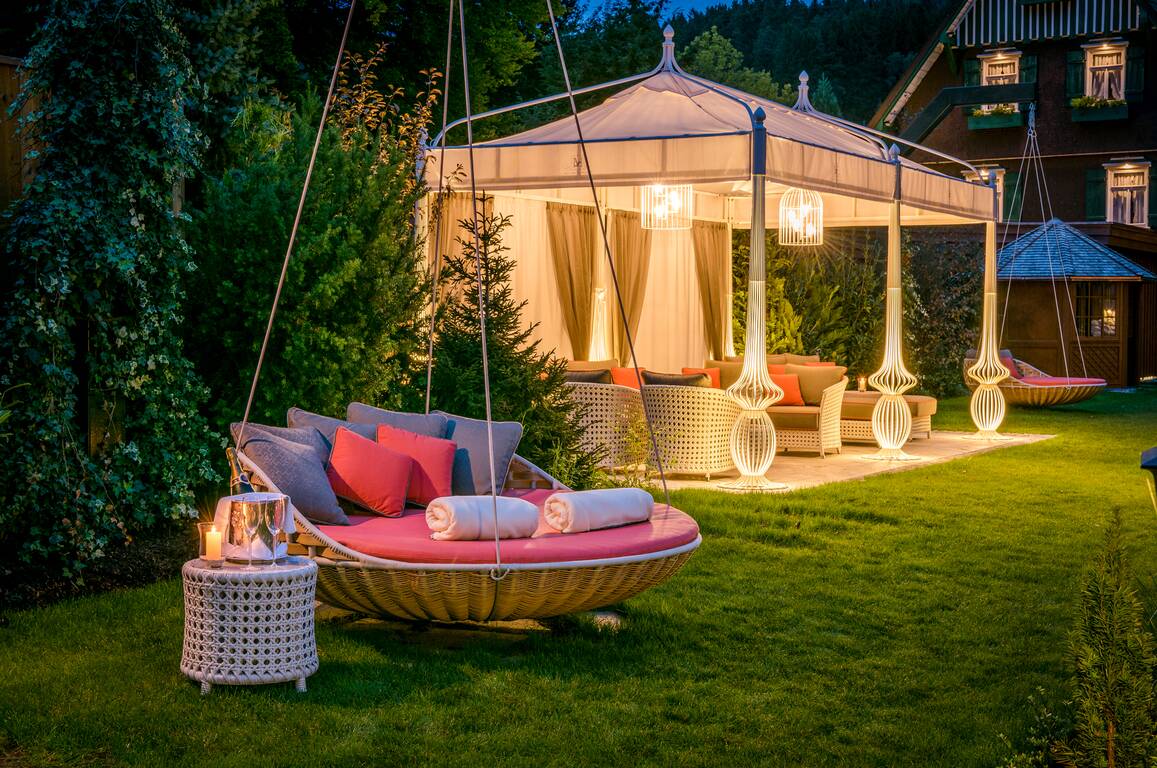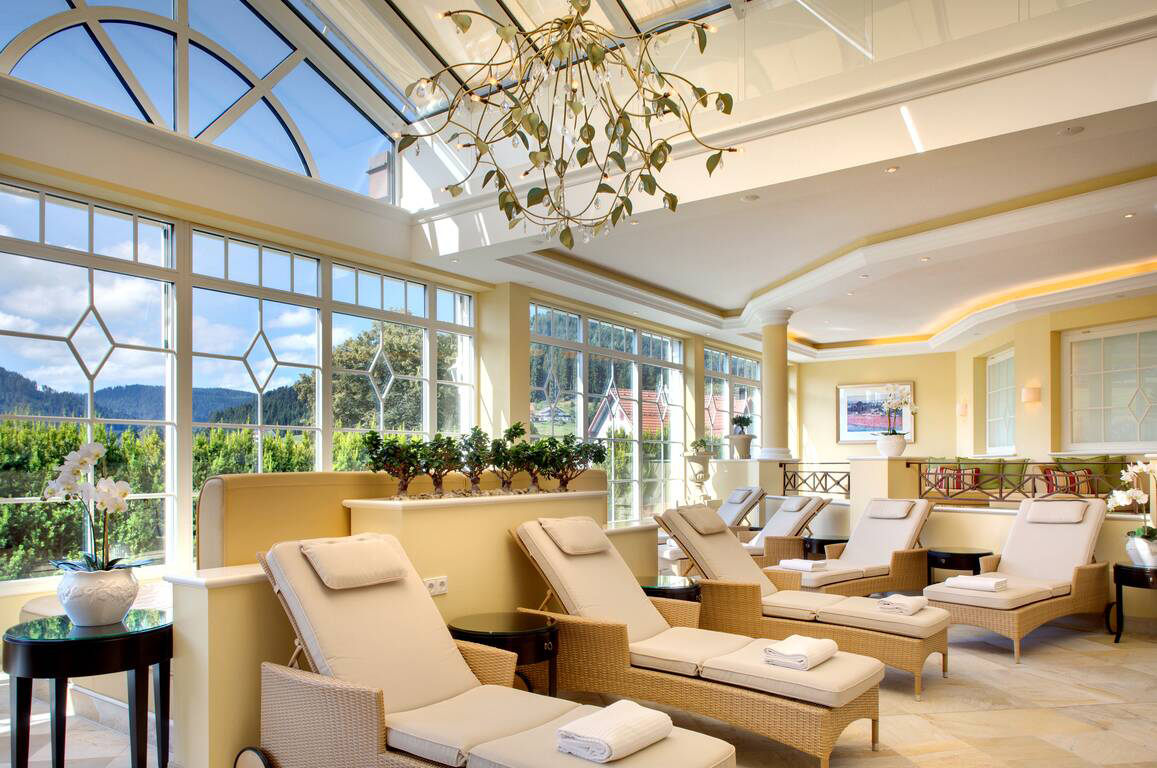 Shopping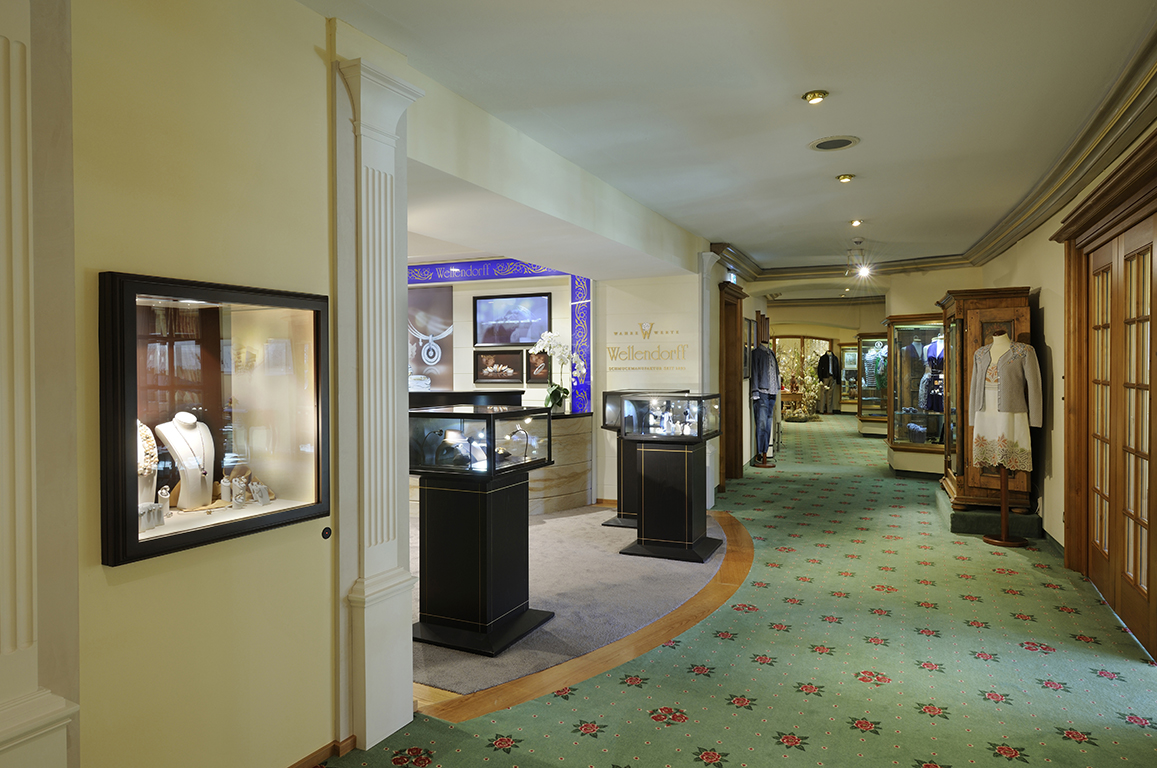 The wine cellar is a gem in the hotel. There is also a small mall and a hairdresser. Fashionable clothes, luxury watches and jewelry, fine perfumes and cosmetics, handpicked home accessories and exquisite delicacies from the hotel's specialty cuisine. Take a piece of the Bareiss home with you.
For kids only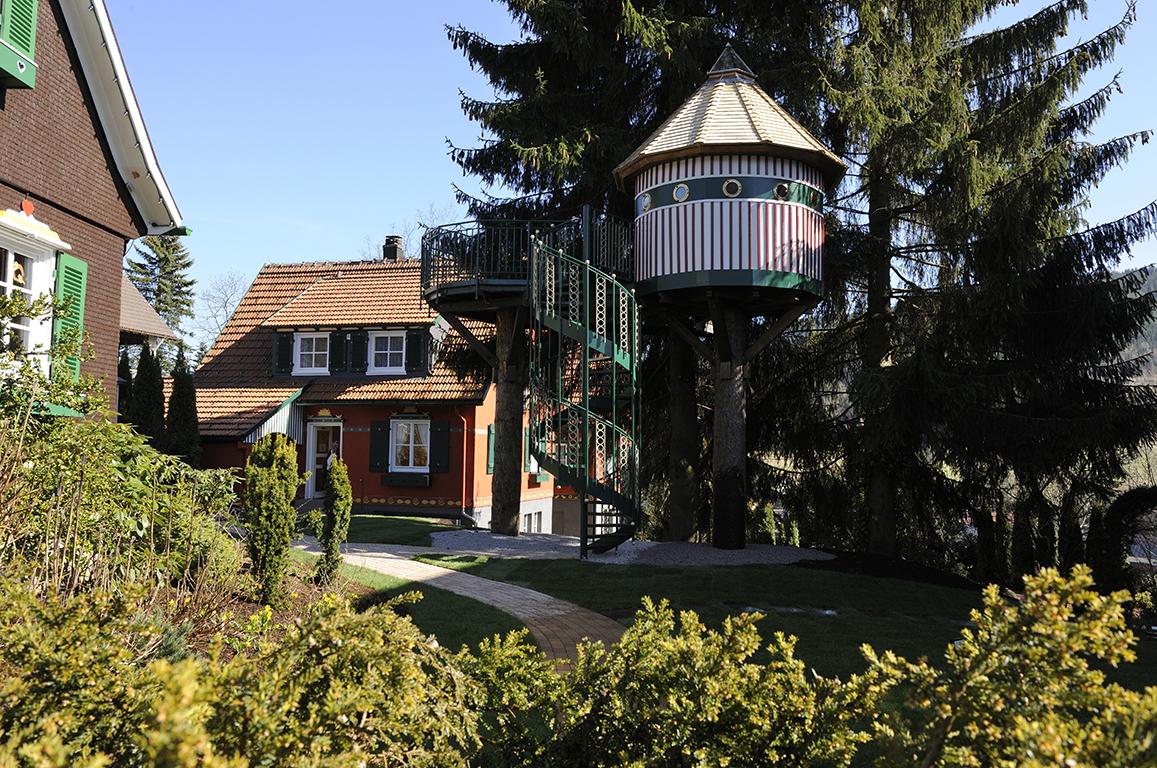 The Bareiss Children's Village offers children and youths their own space and favorite spots for days full of variety in the best of company. A children's house, treehouse, circus wagon, playground, animals and pool. For the teens challenging activities, games, airhockey, disco etc. We have seen so many enthusiastic kids! You just can't go wrong here.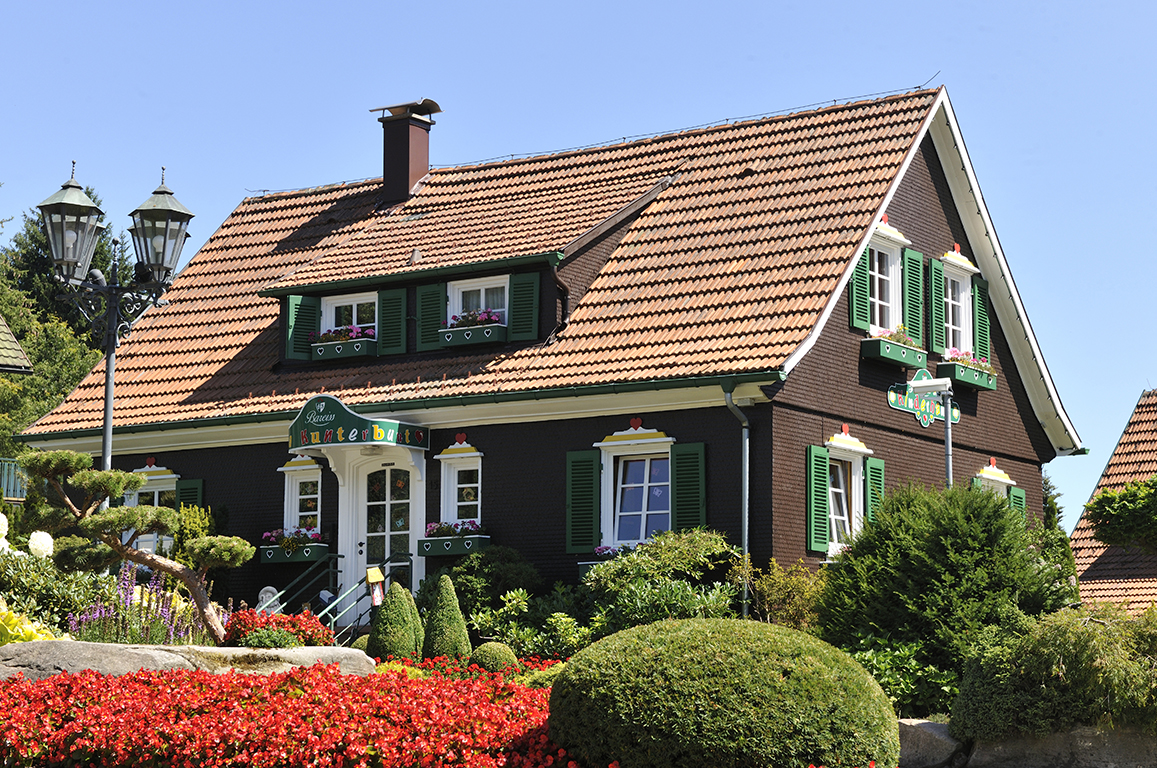 For activities, the hotel will happily construct your perfect day of angling, fly fishing, hunting, sightseeing, or family fun. For those looking to indulge with a chauffeur-driven nature or shopping trip around area, Hotel Bareiss offers a luxury car service. Just ask.
Highly recommended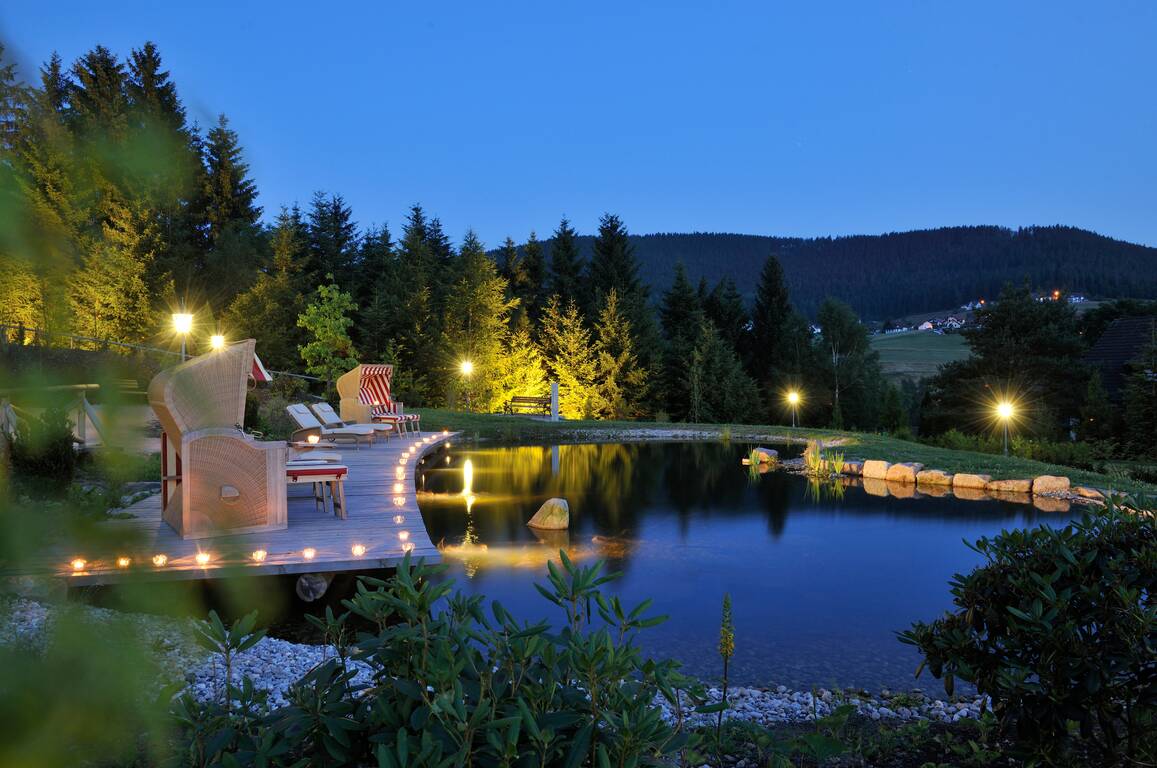 If you're looking for a perfect place to stay in the Black Forrest: you've found it. Do yourself some good and check into this gorgeous German retreat. We can't wait to return!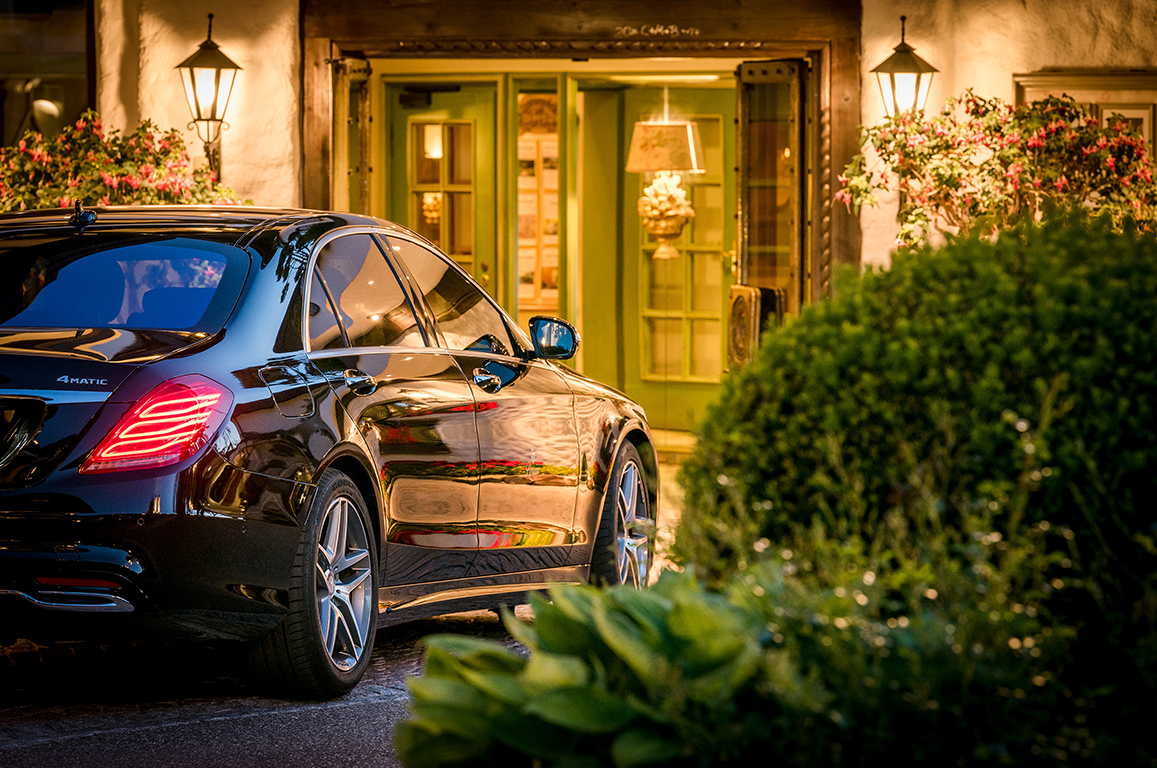 Hotel Bareiss
Hermine-Bareiss-Weg 1
72270 Baiersbronn
Germany
T: +49 7442 470
www.bareiss.com