Opened in 1929 on the heights of Mont-Canisy a few minutes from the town centre, the golf Barrière in Deauville is renowned as one of the most beautiful golf courses in Normandy and France. In fact architects Tom Simpson and Henry Cotton designed three 9-hole courses. Thus giving every player a diversity of experiences in an environment of 70 hectares. So, nestled in the stunning green hills of Mont Panisy, and at the heart of the terrific golfing complex.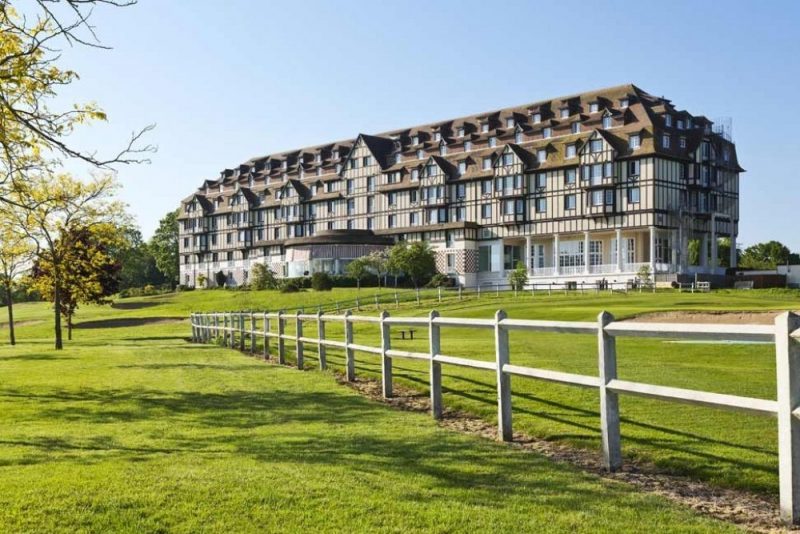 Hotel Barrière L'Hotel du Golf – Classic Norman luxury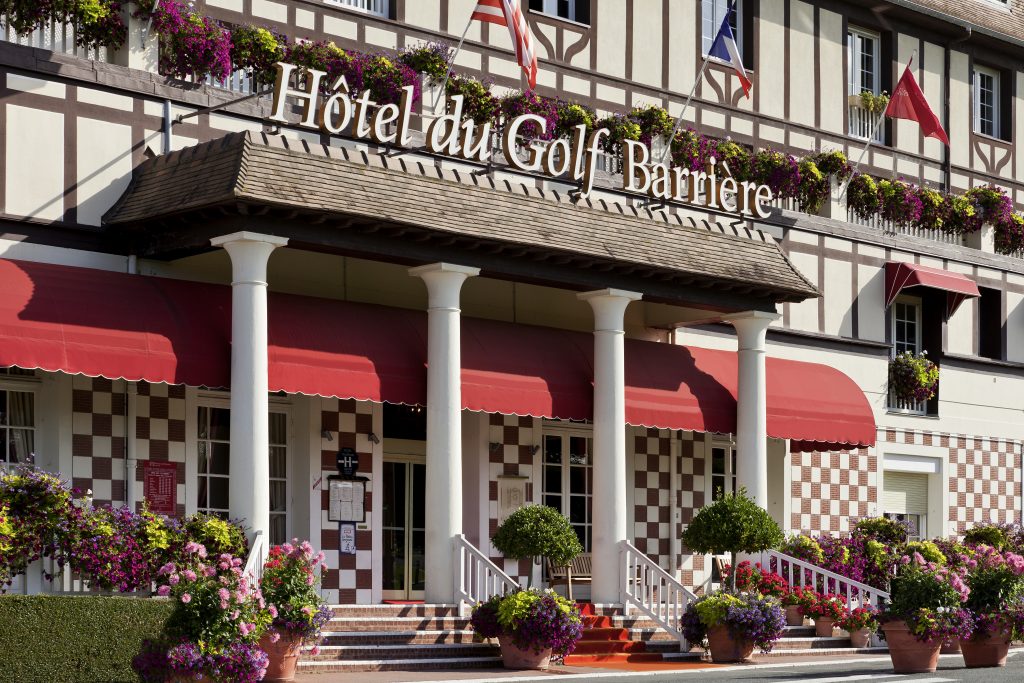 This excellent 4-star hotel was built in a classic Norman way. Here time seems to have stood still. Also the atmosphere of the hotel is very special. And the hotel is beautifully situated on a hill just outside the city, overlooking the golf courses, the village and the sea.
Location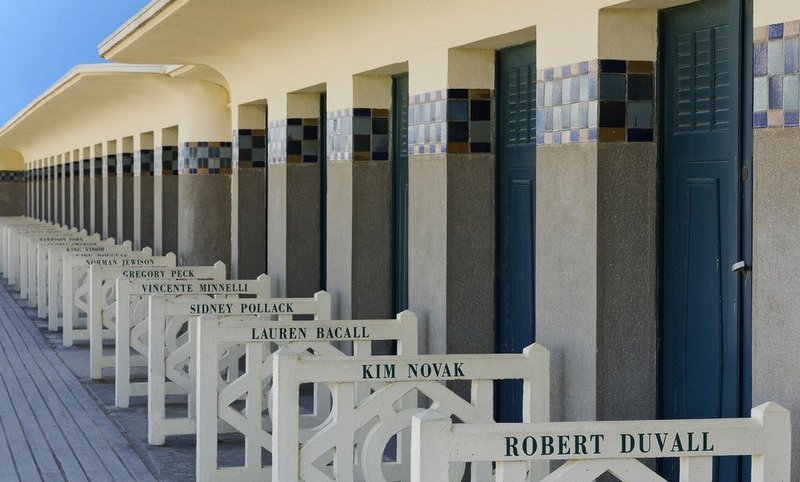 Located in the center of Deauville, just a stone's throw from major French fashion designer boutiques. Therefore the Royal Barrière is also an ideal starting point to explore Normandy's rich architectural and historic heritage like the Landing Beaches or the Mont-Saint-Michel. During the day, you can also claim a sun lounger by the heated swimming pool or a cabana on the beach, or tour the area on one of the complimentary bicycles. A perfect luxury hotel for playing golf, shopping, beachwalks & dining in the Deauville area!
Facilities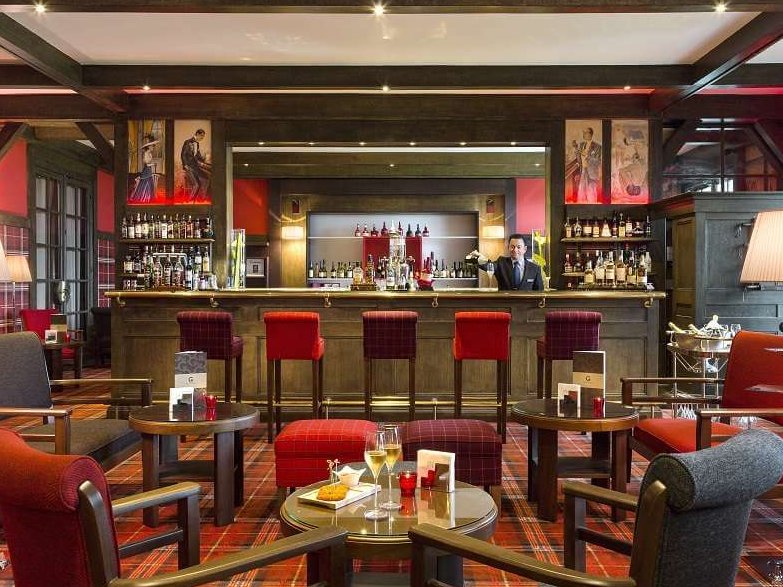 The hotel's swimming heated pool inviting guests to plunge into sparkling waters, play golf or go shopping. Also the hotel is home to a gym and tennis courts and offers guests bikes to borrow. And the American Bar tempts guests with cosy interiors and a selection of refreshing drinks.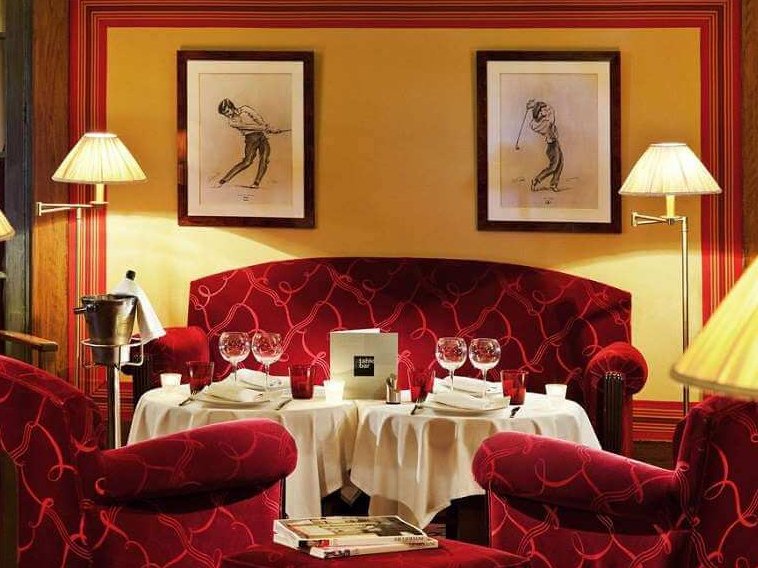 Rooms & Suites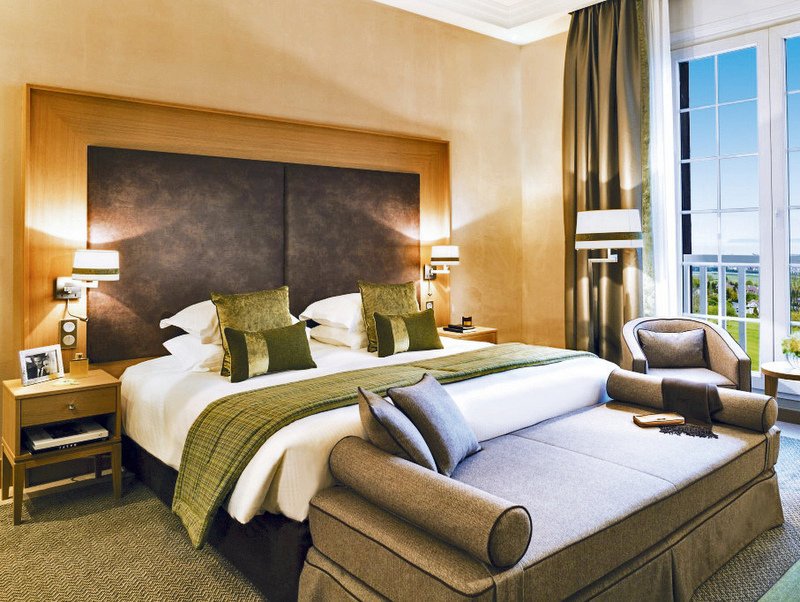 All spacious rooms and suites are beautifully decorated with photos of the beach, horses and harbour. All offering king-sized beds, casual armchairs and simply styled furniture. Also the bathrooms are particularly attractive with stripy wood washstands and grey mosaic. Many have baths with a clever button to choose between bath or shower jet.
The Restaurants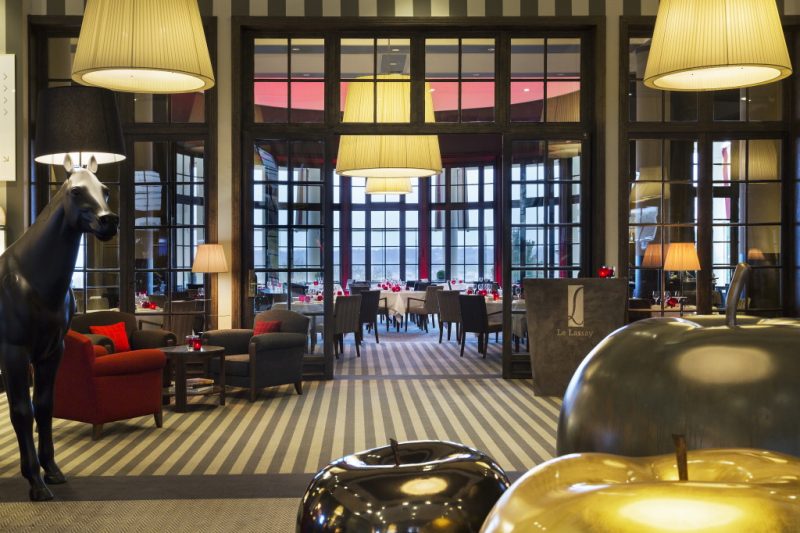 Enjoy lunch on the Planches boardwalk, gourmet refreshments among golfers, a gala dinner in a period setting, a lively supper in a luxury brasserie or exceptional menus in a cosy bar.
La Belle Epoque at Le Normandy
Experience an exquisitely refined dining room, a bright, flowery courtyard, and the magnificent splendour of a glass wall. So in this magical setting, sample the best seafood produce and share a spectacular brunch on Sundays. Come together with friends and family for a fabulous brunch, every Sunday. Also: chandeliers and majestic mirrors, a superb coffered ceiling, and mahogany armchairs covered with burgundy velvet give a touch of Parisian chic to Hotel Le Normandy's gourmet restaurant. So during your Deauville stay: treat yourself to the delights of the Belle Epoque!
Spa & outdoor pool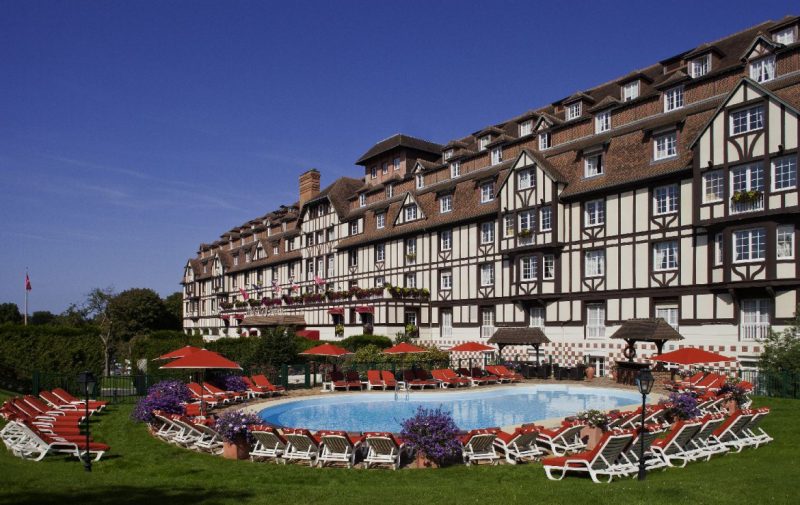 The soft lighting, calming colours, and luxurious and intimate treatment rooms, designed to promote a profound sense of well-being, are ideal for effective, sensual and original treatments. You can also enjoy the warmth of our sauna and steam room and the invigorating cold of a cryotherapy treatment, as well as fitness sessions, massages, beauty, and hair and scalp treatments. The Spa Diane Barrière at L'Hôtel du Golf offers relaxation, well-being and renewed vitality.
Also Hotel Barrière L'Hotel du Golf Deauville offers you an amazing pool. In fine weather, come and take a dip in the 28° heated outdoor pool. ​
Hôtel Barrière L'Hôtel du Golf
Le Mont Canisy, Deauville
14803 Saint-Arnoult
France
Tel: + 33 231 142400
www.hotelsbarriere.com