Meet the new hotspot of Zeeland: Hotel de Timmerfabriek! Situated in Vlissingen, a cute beachside city, a new cool Hotel just opened her doors. And, back in the days, this was the place where carpenters worked on luxury ship interiors.
The vibrant area of yachts & the Timmerfabriek
In fact the harbor area in Vlissingen is undergoing a true metamorphosis. So, this vibrant area will become an unrivaled hotspot on the sunny coast of Zeeland. And the amazing building of the Timmerfabriek is an iconic landmark in this area. Moreover the old factory from 1914 is now transformed into a luxury urban leisure hotel.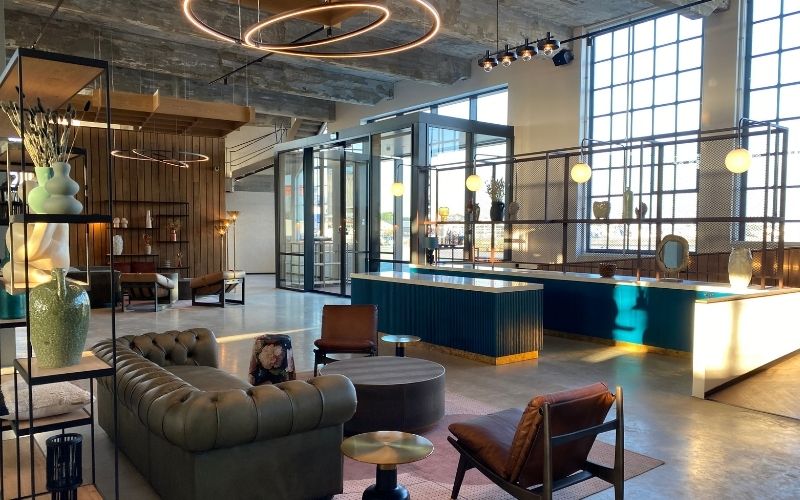 This boutique style hotel offers luxury hotel units. In addition, various facilities are located in the hotel, such as the reception, bar & restaurant. And a lovely terrace with a great view of the luxury yachts of Amels/Damen.
Interior & more
The ground floor houses a restaurant, chef's bar and lobby, creating a cool place. Truly comparable to the wonderful Meatpacking District in New York. And the characteristic industrial atmosphere of the building makes sure you will feel the vibrant history. Above all the check-in desk is situated the middle and cozy corners to sit and relax are found everywhere. Moreover warm colours and cool boat art makes it all complete.
The historical character can still be seen throughout the hotel: high ceilings and large windows & the impressive atrium with glass roof. And the open galleries, and of course the iconic turret.
The Rooms & Suites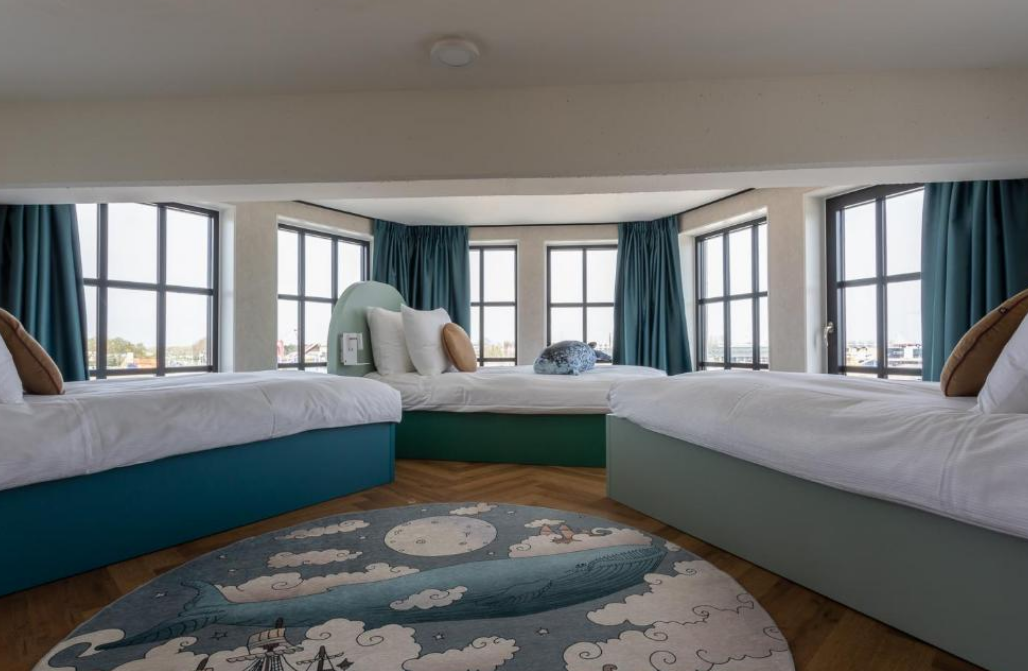 Hotel de Timmerfabriek has many different rooms and suites. Ranging from business cubes on the ground floor with indoor rooftop terrace, to suites with two separate bedrooms and a living. And the spectacular penthouse with private rooftop terrace and Jacuzzi. All rooms and suites have a stylish interior. You will find comfortable beds, a luxurious bathroom with rain shower. Also there are coffee and tea facilities, air conditioning and a safe in every room.
We stayed in a superior suite with 2 bedrooms, 2 bathrooms, a living with huge windows and an amazing view and a small kitchen. This room type is absolutely a great stay for families with kids.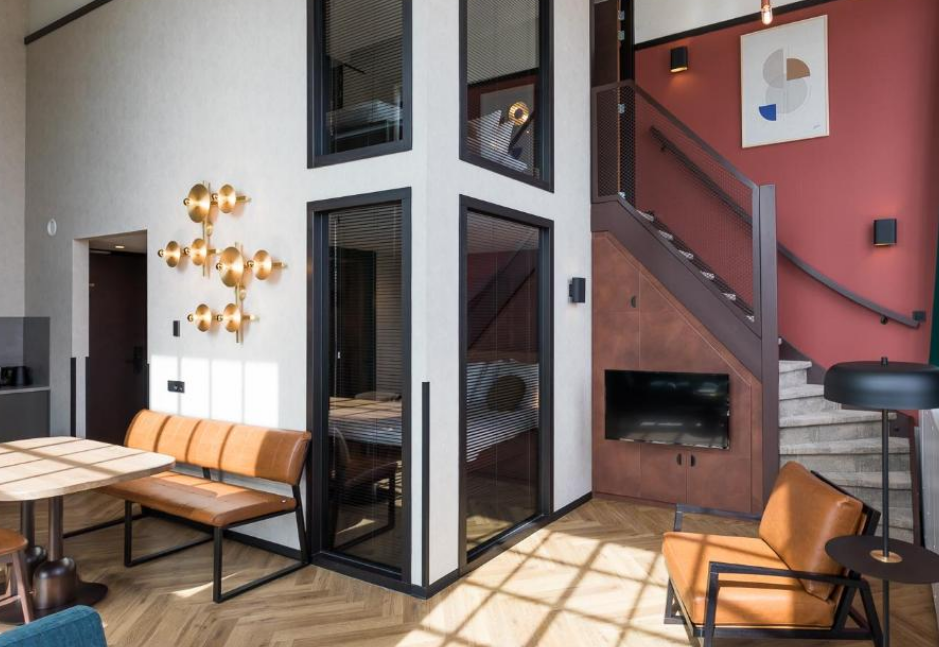 The bar & restaurant
For breakfast, drinks, and dinner, you can enjoy the Gastrobar restaurant. Here, you will enjoy honest and pure food at any time of the day. Taste the fresh ingredients and local products from Zeeland.
The chefs will surprise you with high quality dishes, made from recognizable and local products. On the outside terrace you can enjoy tasty bites, wines & cocktails. Or sit down at the cool bar or relax in one of the intimate booths in the bar area.
Enjoy your stay!
The unique industrial atmosphere and gastronomic setting makes sleeping in Hotel de Timmerfabriek a special experience. So, enjoy one of the many stylish rooms & suites. And taste the seafood in the restaurant, sip on a cocktail on the terrace and explore the area! Enjoy!
Hotel de Timmerfabriek
Albionkade 301
4381 KZ Vlissingen
Tel: +31 118 246 700
https://www.kloegcollection.com/nl/overnachten/hotel-de-timmerfabriek