Located just off the Champs-Élysées in an Art Deco building built in 1928 and home to the iconic terraced penthouse with a stunning view of the Eiffel Tower. Furthermore The Four Seasons Hotel George V is the definition of Parisian luxury and elegance. Certainly, upon arrival, you are greeted with a magnificent chandelier and inviting floral arrangements by Jeff Leatham in the stunning lobby.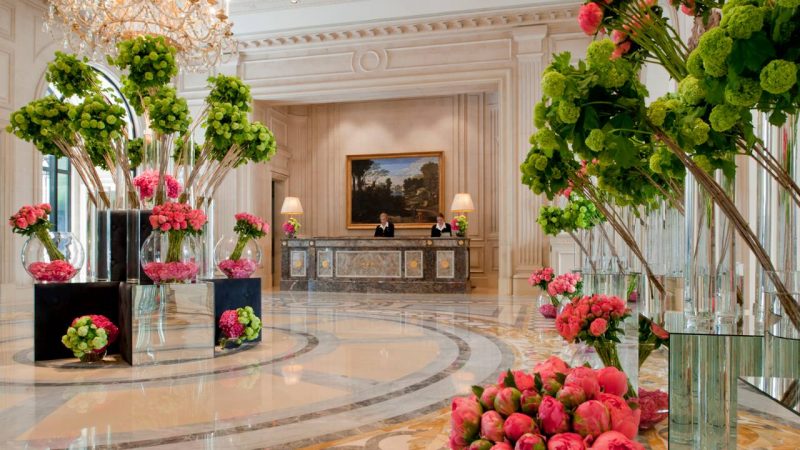 L'Orangierie: the Restaurant

L'Orangerie is a beautiful tiny restaurant is situated between La Galerie restaurant and the handsome courtyard of the Four Seasons George V hotel. It features a concise, seasonal menu in which tradition is updated thanks to elegant, perfumed notes and a delicate blend of flavours.
L'Orangerie is the third signature gastronomic restaurant at Four Seasons Hotel George V, Paris. A new dining experience in the Marble Courtyard, already home to the recently opened Le George restaurant and the three Michelin starred Le Cinq. Of course L'Orangerie offers a traditional French contemporary cuisine imagined by Chef David Bizet in a true light setting.
The Decor

Also as an extension of La Galerie, L'Orangerie restaurant is an atmospheric spot overlooking the famous Courtyard at Four Seasons Hotel George V. Furthermore the restaurant is in a modern conservatory of 7-metre high glass and–steel structure. Of course this blends seamlessly with the architectural Art Deco style of the hotel with stunning views of the Courtyard. Especially the decor is intimate. Together with an elegant mosaic with plant motifs covers the floor, and huge Lalique lamps adorn the interior. Also the view from the restaurant is simply superb.
The Chef

As a true nature lover, Chef David Bizet presents his menu like a definition of a traditional French contemporary cuisine. Certainly everything is in perfect harmony with the four seasons. Aditionally the colour arrangement of the food in his plates come into their own like the palette. David Bizet received in 2017 his first Star at the Michelin Guide. Also the menu exemplifies the traditional French contemporary cuisine "of elegance, refinement, femininity and respect for nature.
Above all this is absolutely the ultimate place for lunch or dinner for hotel guests & Parisian foodies!
L'Orangerie – Four Seasons Hotel George V
31 Avenue George V
75008 Paris
France
www.lorangerieparis.com