The Pelican Beach Resort – part of Noble House Hotels & Resorts collection hotel that's slightly boho and a bit Southern belle, with a prime beachfront location.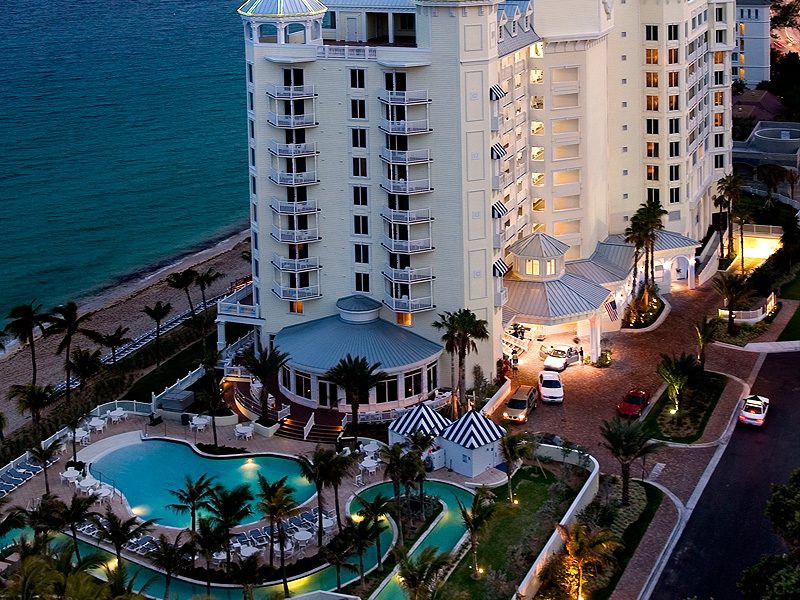 This Laid-back beachfront resort with the typical old Florida grandeur offers you a coastal-chic waterfront retreat. From watching stunning sunrises on private balconies, to indulging in culinary creations at OCEAN2000 Restaurant & Lounge, and floating down Fort Lauderdale's only lazy river, vacationers are engulfed by the unrivaled location of this laidback beachfront boutique resort set amongst the soothing sights and sounds of the Atlantic Ocean.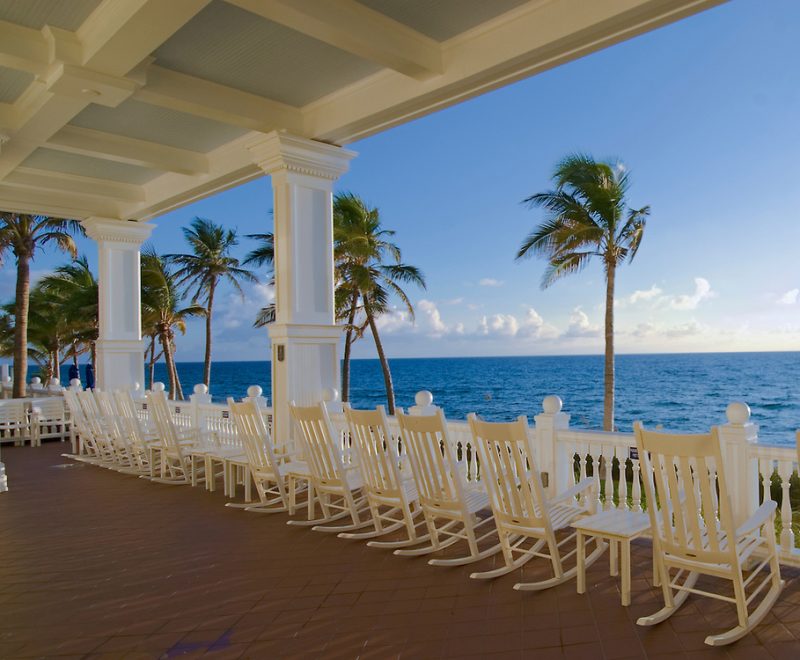 Fronting a prime stretch of golden sand in the quieter northern reaches of Fort Lauderdale Beach, the Pelican Grand Beach Resort opened in 2004 and conjures the feel of old Florida with a setting that makes for a relaxing family vacation.
With the combination of renovated oceanfront property and empowerment of the Noble House Resort & Hotel brand, in the yachting capital of the world, Pelican Grand grants beach lovers a spirited, yet sophisticated getaway in a sun-drenched destination of seaside cafes, picturesque waterways and a leisurely pace.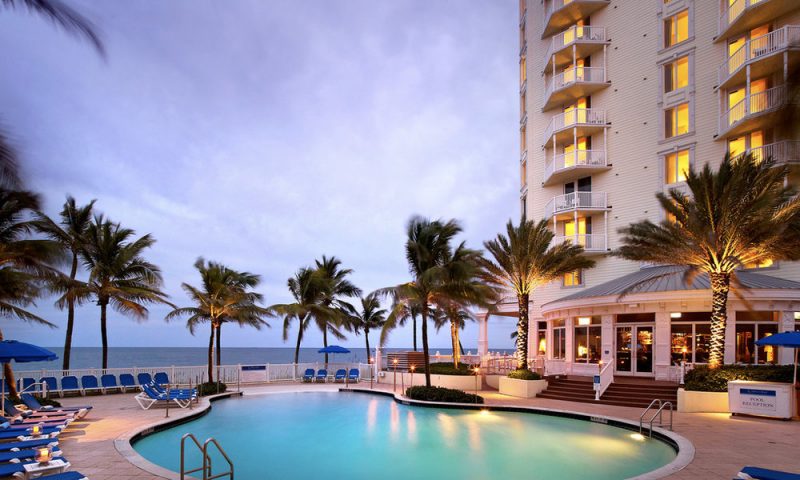 The 11-story tropical building is painted a pale yellow with blue and white striped awnings that give it a certain Caribbean appeal. In the elegant lobby, paddle fans swirl and pretty paintings of palm-lined Florida landscapes decorate the walls. When the sunlight shines into the lounge, the polished marble floors and the chandelier hanging from the dome ceiling glisten, and the outdoor porch lined with white rocking chairs invites you to take things down a notch. It's a popular place to relax with a book or to enjoy a cocktail during sunset.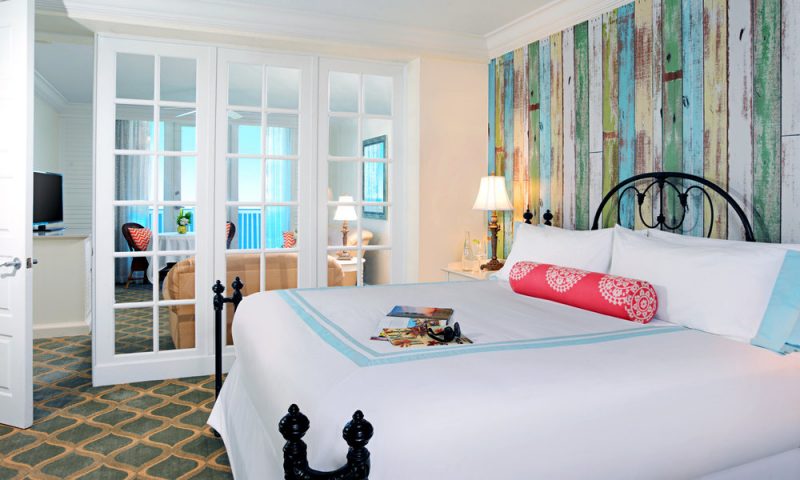 All guestrooms have cast iron King beds, pineapple desk lamps, wicker chairs and flat-screen TVs; some have private balconies. The suites also feature a living area that's separated from the bedroom by a wall of French windows. When the patio doors are propped open, the sounds of crashing ocean waves lull guests to sleep. The bathrooms offer a separate shower and tub and high-end toiletries.
The hotel's pool is a great place to relax and has Fort Lauderdale's only lazy river, and kids (& adults:-)) will spend hours making laps around it with their tubes. The beach is clean and beautiful, and far less crowded than those to the south. Spend your days splashing in the breakers and relaxing under an umbrella, before transitioning to a rocking chair to kick back at the end of the day.

The light and airy O2K Lounge offers crafted cocktails and lunch bites (think turkey clubs & taco's) to guests lounging on the patio, the beach or in the pool area.
The more upscale Ocean2000 restaurant serves breakfast, lunch and dinner, as well as an award-winning Sunday brunch. In the evening, dine alfresco amid flickering tiki torches on such fare as seviche,  blackened cod or lobster risotto. For a quick daytime snack, the Emporium shop is a throwback to an old-fashioned soda shop, with milkshakes, specialty coffees and 15 flavors of ice cream.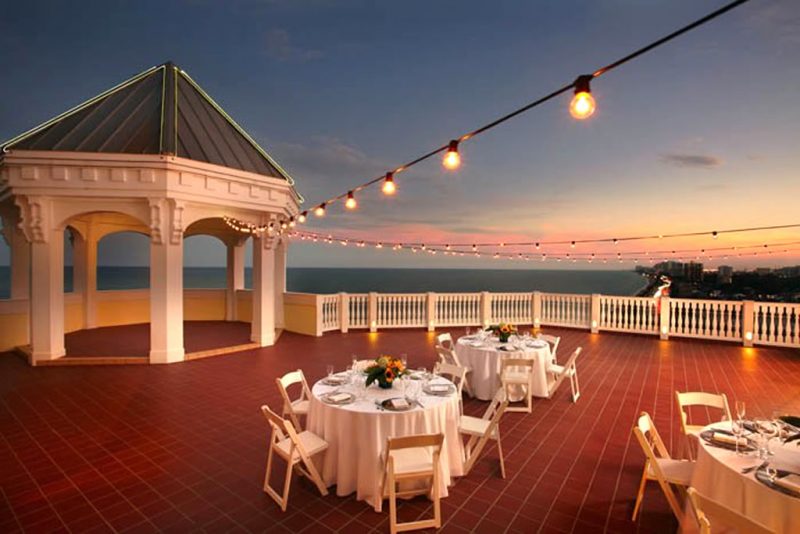 The area surrounding the Pelican Grand Beach Resort, A Noble House Resort is quiet, but many attractions are easily accessible by car or shuttle. Beach Hopper Tours offer open-air transportation (and guided tours) and is an ideal way for visitors to get their bearings. A short walk away is Hugh Taylor Birch State Park, a hidden gem nestled between the beach and the Intracoastal Waterway, and across from it is the Bonnet House Museum and Gardens, a historic artist's estate. For a casual lunch or dinner, head north to Greek Islands Taverna or south to bustling Las Olas Boulevard, the main strip, which has numerous dining, shopping and nightlife options.
Pelican Grand Beach Resort
2000 N Ocean Blvd
Fort Lauderdale
FL 33305, United States
Tel: +1 954-568-9431
www.pelicanbeach.com