Roomers Munich offers you a luxury & sexy stay outside of the busy city center of Munich while still being connected to the action! With a focus on modern sexy design, the hotel boasts chic black and gold décor. There is a fabulous concierge service, a stylish-looking spa with five treatment rooms, pool and a cool gym area. And above all Roomers is home to a fantastic bar & popular Restaurant: Izakaya.
The location of Roomers

There are two S-Bahn stations ten minutes away, which reach city centre Marienplatz in 6-7 minutes. Munich is a cool and interesting city that's so much more than just beer. From stunning galleries and museums, to Christmas markets selling authentic German goods. Munich is a rich blend of Bavarian culture, style, architecture, food and scenery that is scintillating to the senses. And also you'll find lots of beautiful shops & lots of good restaurants. Explore Marienplatz, the central square in the city center, visiting the two historic town halls and famous clocktower. Stroll through the expansive English Garden or take a day trip to the Bavarian Alps, visiting alpine villages and castles.
The style of Roomers

Dark shades and minimal but clever lighting is all the rage at Munich's Roomers. Traditionalists might baulk at the dim lighting and dark aesthetic, but even if it takes a few minutes to get used to it, it grows on you, eventually becoming enjoyable, and easy on the eye. Dark woods and leathers, and marble and copper features accentuate the pleasingly calm overall effect.
Rooms & Suites

Roomers as a brand describe themselves as "Electric. Sexy. Sensual. Luxurious. Glamorous," which is exactly what it is! The rooms & suites are filled with mirrors, a number of them contain a bath in the bedroom and the walls are covered with sensual art.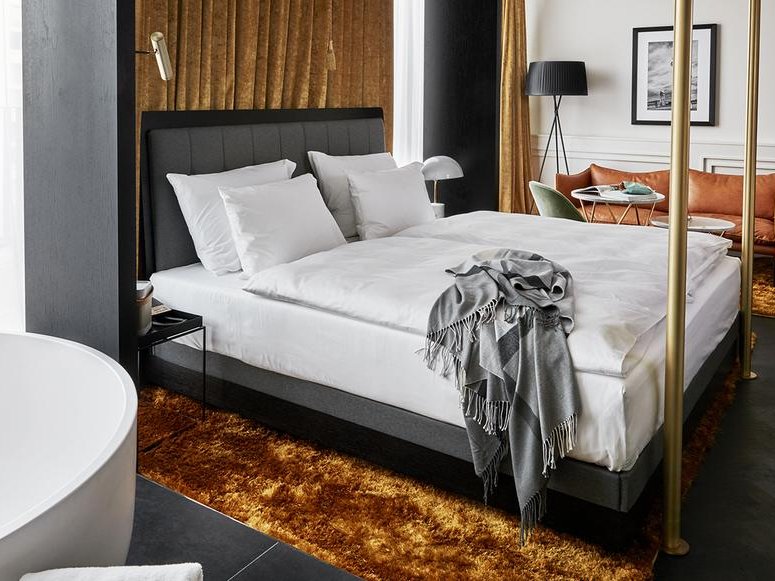 Roomers offers you different types of rooms & suites – and all include a touch of glam & luxury. From the superior room with a rain shower to the Roomers suite with its private bar, steam room and private terrace looking over the city, Roomers can cater to every type of guest. We absolutely loved the Deluxe Premium Room, with the bath tub in the bedroom, walk in rain shower and the king-sized bed. Luxury on another scale.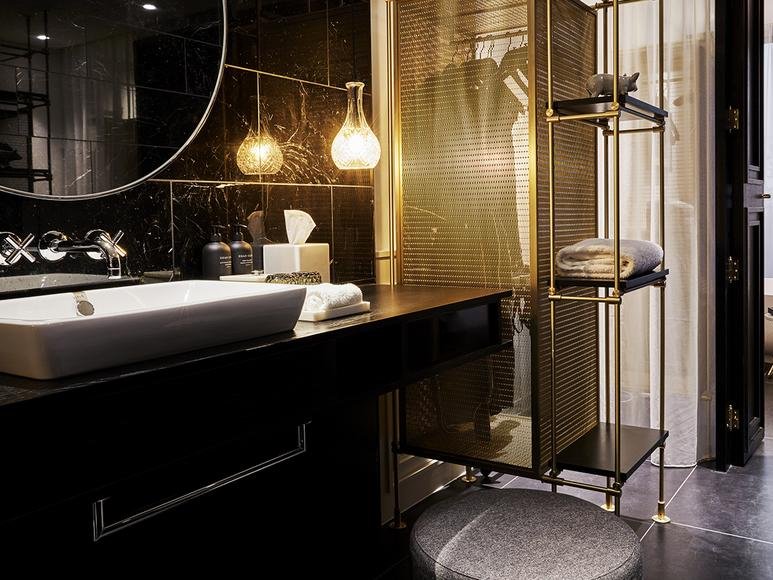 The Bar

Roomers Bar – but be sure to check out their Hidden Room directly adjacent to the Bar. The Hidden Room will transport you back to the '60s and leave you sipping on cocktails while dancing to the in-house DJ all night long.
Izakaya Restaurant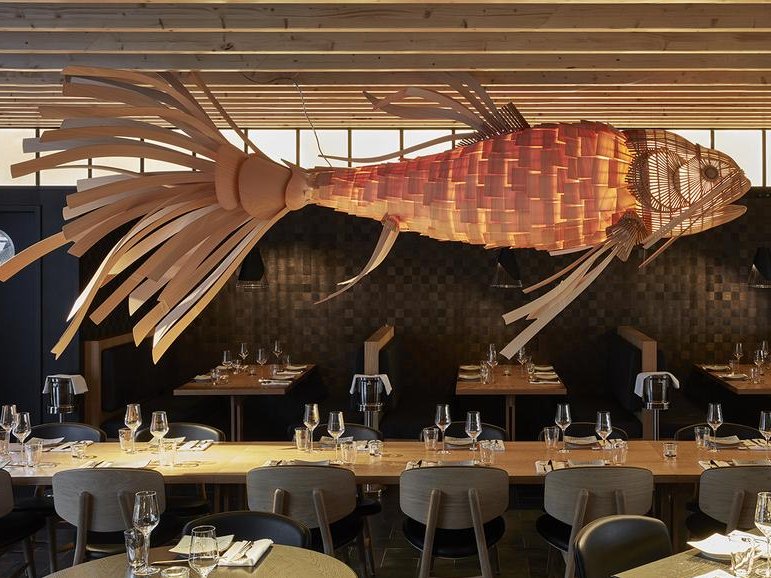 Izakaya Asian Kitchen & Bar serves traditional Japanese dishes with a South American influence. The outstanding Izakaya Asian Kitchen & Bar alone should pull in plenty of overnight guests and locals. It's largely Japanese and South American inspired, and chefs cook as guests watch, fascinated as flames periodically shoot into the air. In tune with the hotel aesthetic, behind the cooking spectacle is the darkness of Landsberger Strasse, seen through huge windows stretching the length of the kitchen.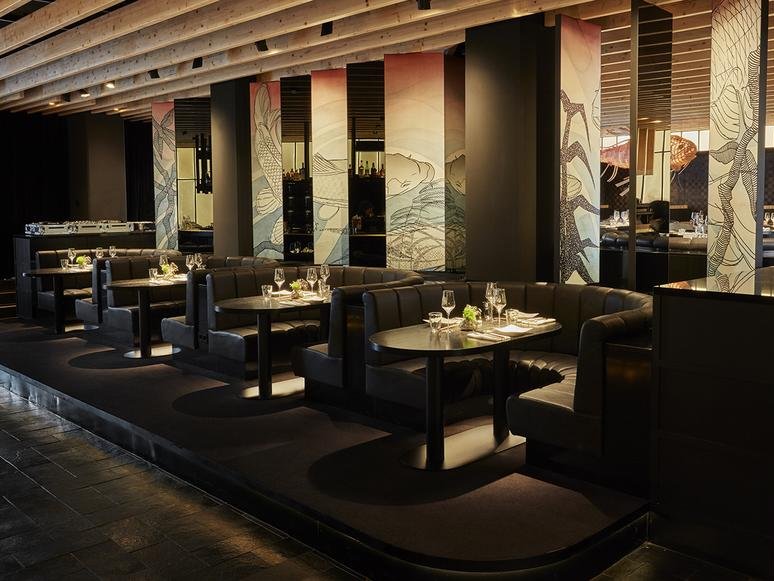 The breakfast

The excellent breakfast has an added twist in that it has an additional focus on promoting a healthy lifestyle, seen with grilled cauliflower and confit carrots, both topped with things like pomegranate and almonds. But you'll also find the characteristic German Pretzels, Croissants, delicious egg dishes and pancakes. As well as lots of fruit & types of yogurt.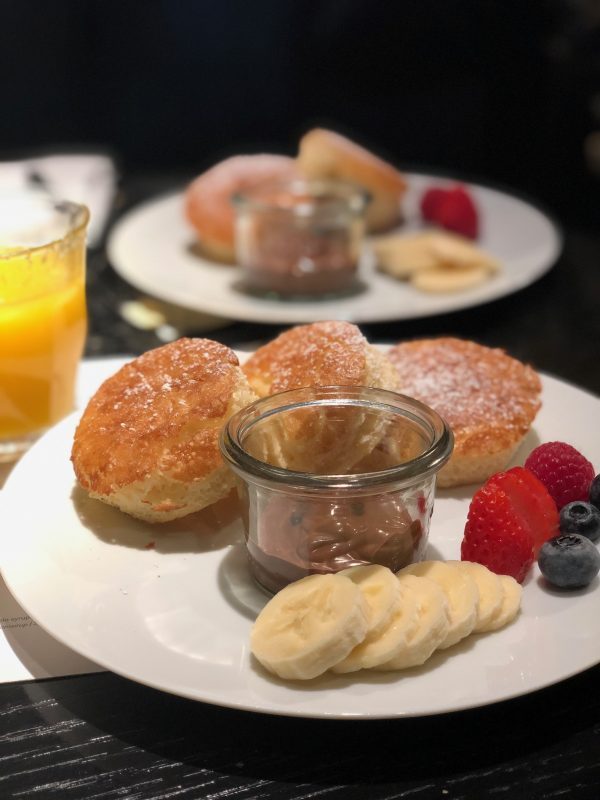 The spa & Cinema

you'll enter a deep sense of relaxation at the Roomers Spa.With five treatment rooms, an infinity Jacuuzzi, a bar, a projection screen, and day beds to lounge to your hearts content – you may never want to leave. Unwind at the indoor infinity pool, which also has a cinema screen and cocktail service for a unique experience. Roomers Spa by Shan Rahimkhan includes a sauna and hammam, with a full treatment menu.
While in Munich, you'll find no better base than Roomers Munich, an Autograph Collection Hotel – an exquisite hotel with a dash of luxury & style!
Roomers Munich
Landsberger Str. 68
80339 Munich
Germany
Tel: +49 89 4522020
https://www.roomers-munich.com