LUUMA: a unique and unexpected beach restaurant experience. Idyllically situated, just meters from the sparkling Mediterranean Sea, and on the heaven white sand of El Rosario Beach in Marbella; one of the finest beaches on the Costa del Sol.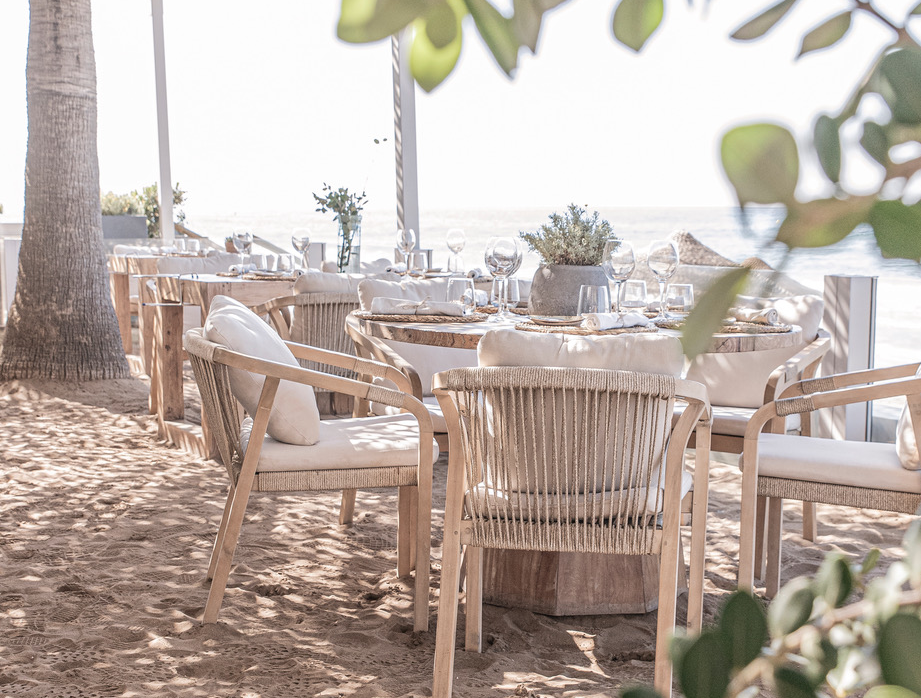 LUUMA beach experience
Relax on the beach beds with your friends and family, or feel the breeze in your hair while you swing carefree with a cocktail or fresh juice on our beach swings. The menu and motivated team are our story, and your memories.Luuma Beach & Restaurant is located in the fablulous El Rosario neighborhood of Marbella. And it's located directly on one of the most beautiful sandy beaches. Located directly on the beach, with a fantastic deck just a little higher. So, you'll have a stunning view during your stay. Enjoy a coffee, breakfast, lunch or dinner and dream away!

Nice to know: The beach club was opened in early 2020 by a cute Belgian couple. taken their inspiration from a beautiful trip to the Galápagos Islands and Easter Island.
The interior of LUUMA


A cool tone-on-tone interior with beautiful beige tones and a sea view is the basis for this beautiful beach club.
The beach club has amazing hidden corners, lots of plants and wood. The higher part is more of a lounge area and below that is the restaurant area. There is a layer of sand which makes it very accessible and fun for children to play next to the table.
A few steps lower you come to the beach where you can rent a beach bed (if you're lucky).

The food of LUUMA

The food here is just as amazing as the interior. With fresh local ingredients sourced from both the mountains and the coasts of Andalucía to enhance all the flavors and the colors of the Mediterranean, Luuma offer a stylishly classic menu with a twist.On the menu: hot and cold tapas, appetizers, bowls, salads, main courses, side dishes and great sushi.
LUUMA Beach
C. Playa Hermosa 204
29604 Marbella, Málaga
Spain
https://www.luumabeach.com/