Mi Manera is truly a magical place: a fabulous from-farm -to-able restaurant. While this beautiful secret garden restaurant was born as a labor of love. And also dedication to the local culture and its organic & fresh cuisine.
A mi Manera
So here they works in totally harmony with nature and art. With stylish decoration touches. And with sustainability at its core. Therefore the overall aim is to truly fit into the natural vibe of the island.
The gardens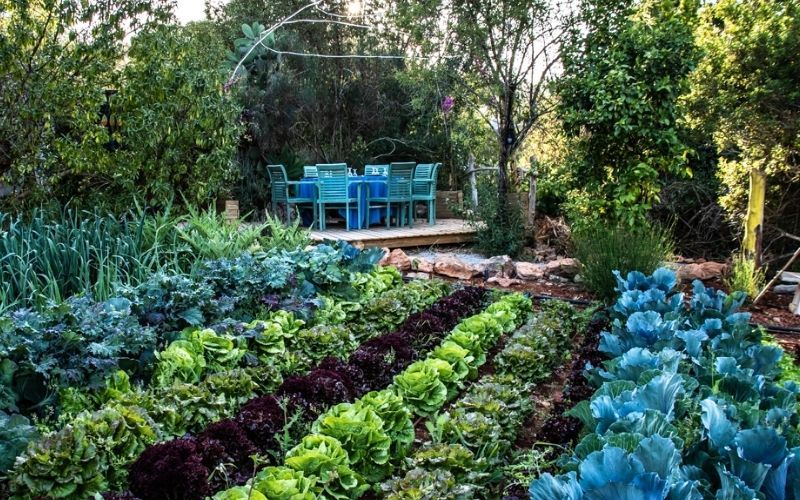 So, the biggest attraction of A mi manera is the amazing, charming inner garden. And the sister venue to an insiders' favorite in Formentera. And the location couldn't be more perfect. First: set in a beautifully restored ancient finca on the iconic San Juan 'restaurant road'. Secondly A Mi Manera is surrounded by plenty of farmland. Therefore the owners are allowed to grow organic vegetables.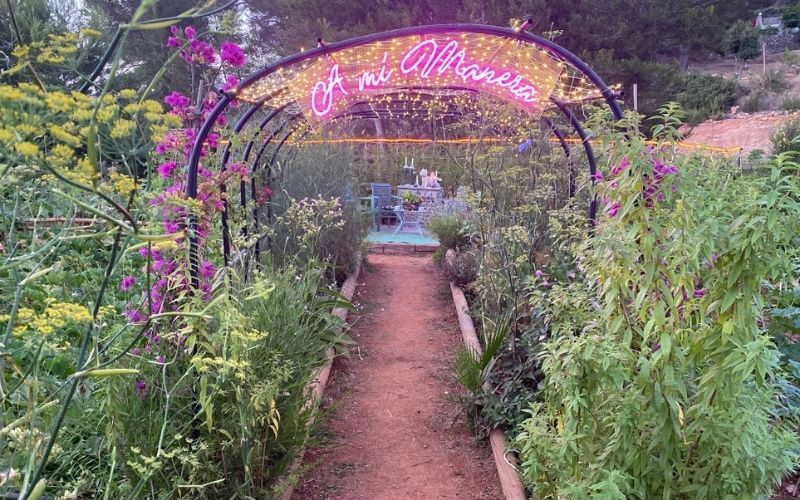 A Mi Manera possesses a true secret garden charm. And thanks to whimsical styling details courtesy of the creative director, Manu Crotti. Likewise in the main dining area, vintage tables with brightly colored chairs are scattered under a fairy-lit canopy of trees.
In short this is an intimate restaurant and perfect for romantic dining.
Food & Drinks
Above all A Mi Manera offer an outstanding range of gourmet meats and freshly caught fish served with vegetables. Which have been grown with love and care on their own lands.
Dine alfresco, surrounded by luscious sight and scents of the plants. And herbs which will grace the unique creations of their talented chef. And be delivered with the greatest of style directly to your table. A delectable experience taking diners on a magical journey to immerse themselves fully in the aromas and the flavors of this beautiful island.
The menu at A Mi Manera offers classic Mediterranean cuisine with a strong Italian family influence. Antipasti is divine in its simplicity. When it comes to mains, the charcoal grill plays a starring role, with premium quality cuts of Wagyu, Kobe and Black Angus beef on offer alongside a mouth-watering local pluma Iberica. Choose from fresh pastas and risottos, meat dishes, including several cuts of delicious Wagyu beef and sustainably sourced fish.
Threehouse bar
A unique tree-house style bar serves bespoke cocktails where fruits and herbs grown onsite are brought into the mix. While a path through the gardens reveals a large circular table overlooking the gardens.
So an exquisite spot for fine dining with friends on a balmy Ibiza evening. To the left under the trees there is a beautiful wooden cocktail bar where you can enjoy an aperitif with a cocktail, beer or wine. The best place to start or to end your night at A Mi Manera
Open for lunch and dinner, and available for weddings and events, A Mi Manera is a very special Ibiza Restaurant with a heart.
A mi Manera Ibiza
E-10, 07812 Sant Llorenc de Balafia
Ibiza, Balearic Islands
Spain
www.amimaneraibiza.com