Hôtel Barrière Le Fouquet's Paris is located where the Champs-Elysées meets avenue George V. Fashionable and luxurious, this perfectly located hotel resides amidst designer shops (Louis Vuitton is across the street!) and the Arc de Triomphe is just a 5-minute walk away. This famous hotel is as much a part of Paris as the Eiffel Tower itself!
History
It all started with the café. Fouquet's has long been associated with the movie industry. In the 1920s and 30s the first movie theaters in Paris were opened on the Champs Elysees and the café was the place to be for the famous ones. In the early 1990s Fouquet's café was just about to be sold to a large corporation and to be torn down, when the Barriere family bought the café, including 5 buildings, and turned it into a luxury hotel. This massive transformation and expansion of Paris' legendary café into a luxury hotel was overseen by architect Edouard François and interior designer Jacques Garcia.
Fabulously plush and comfortable rooms
The fabulously plush and comfortable rooms have been exquisitely designed by star French designer Jacques Garcia. Blending tradition with modern comfort, designed to feel like home!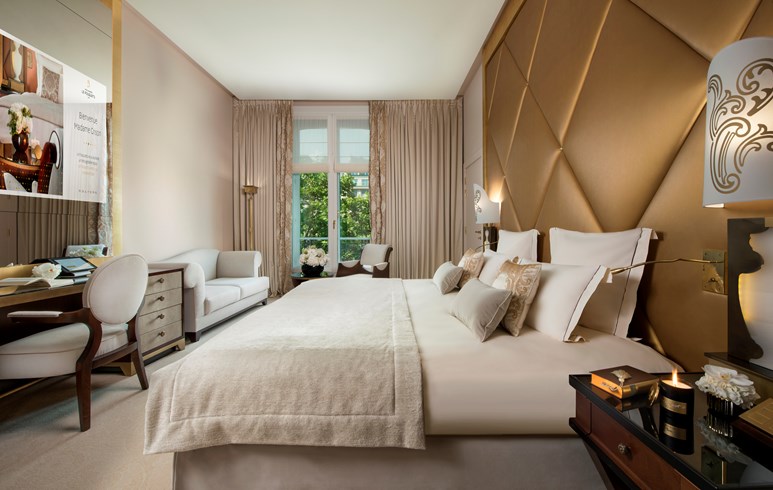 Step inside your cozy room that offer peace and quiet. Or steal a peak at the busy streets below and plan your next outing. The minibar include complimentary water and sodas. Nice detail: in the evening you can find several small gifts in the room. From chocolate to nail polish.
What a view!
We were lucky to have a balcony with an amazing view over George V and the Eiffel Tower. Just wow! Waking up with this view is an absolute dream! Also the spacious marble bathroom had this amazing view. Imagine sinking into some bubbles looking out across the heart of Paris. Even though the hotel is on a busy road the rooms are sound proof.
Legendary restaurant Fouquet's
The legendary restaurant Fouquet's boasts a classic traditional Parisian brasserie décor. Really lovely location! We recommend you to get a reservation as it can fill up so quickly.
Elsewhere, restaurant Le Joy invites you to relax in a warm and welcoming setting, with a beautiful terrace. Breakfast is served in Le Loy as well. It was absolutely delicious, with only fresh products. From the hotel's rooftop terrace you can enjoy a panoramic view of Paris, perfect spot to enjoy a cocktail before dinner!
Stunning spa
With our hectic lives, it's important to plan in some relaxing time. Once settled in, why not indulge in a pampering treatment at the spa? This intimate relaxation space offers a stunning swimming pool, sauna, hammam, relaxroom and fitness center. Here, you will find relaxation and the opportunity to recharge after an exciting day in the city. We absolutely loved our time here!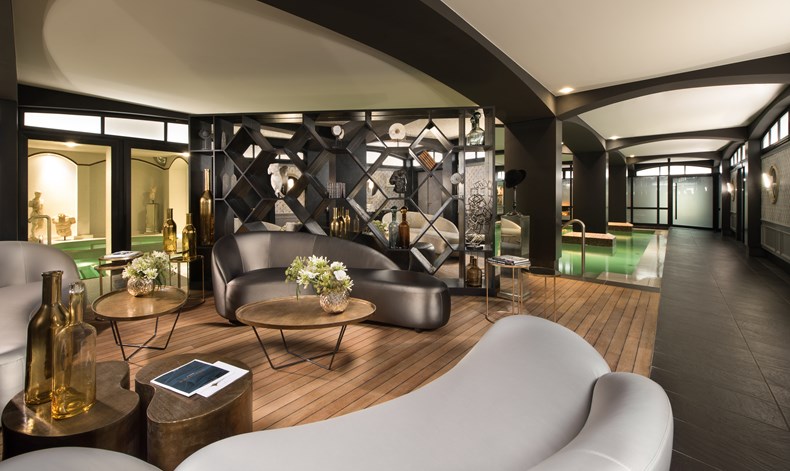 The best of everything
Amazing hotel in a high-end neighborhood; filled with the best of everything. The ultimate Parisian experience!
Hôtel Fouquet's Barrière
46 Avenue George V
75008 Paris
France
+33 1 40 69 60 00
www.hotelsbarriere.com